By Natalie Stone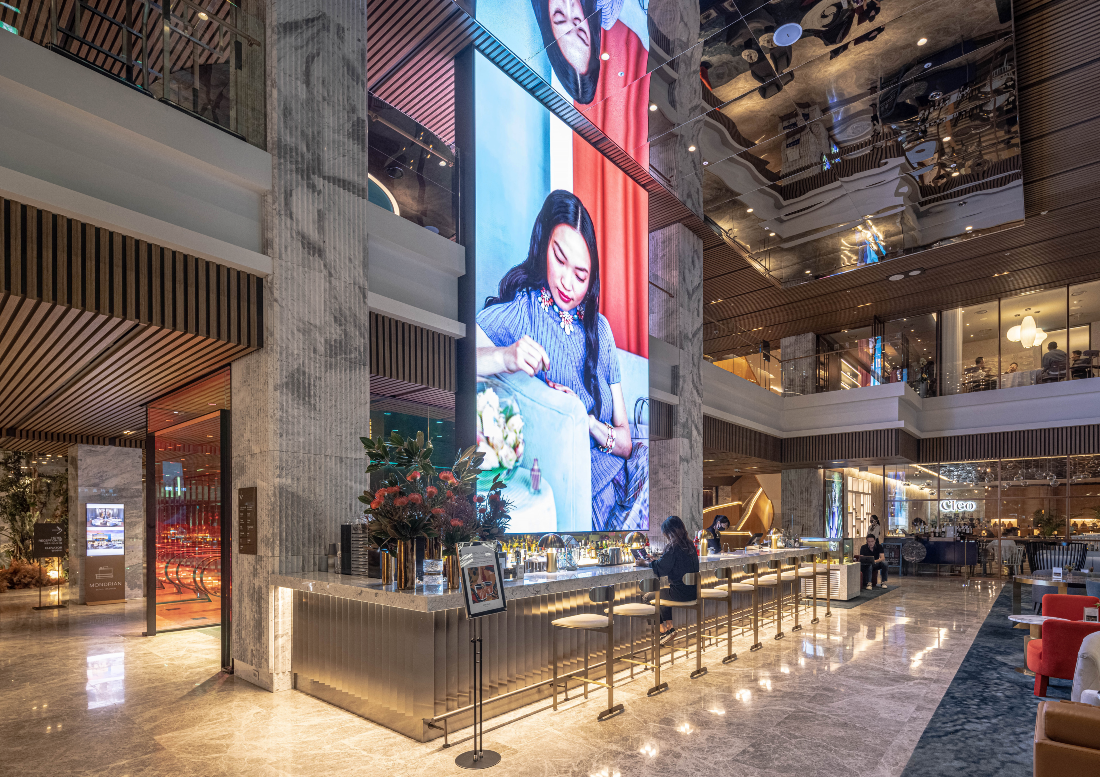 As we celebrate the return of travel, the hospitality sector is working hard to create amazing guest experiences to entice guests back and accommodate their changing needs.
The evolving digital landscape is offering up original, exciting, and engaging opportunities, including new types of art installations from augmented reality to immersive art and AI, all contributing to the explosion of digital art, being adopted in workspaces, public places, homes, and hotels across the world.
In a special webinar by commercial interior design publication Hospitality Design, executives from Accor, Marriott, Samsung, ICRAVE and Niio joined to discuss the new trends, changing guests' needs, and emerging technologies that pose a reality of continuous evolution for hospitality experience. Together they explored the transformational power of digital art, how accessible it has become, and its effectiveness in realizing the ambitious visions of hotel owners and designers globally.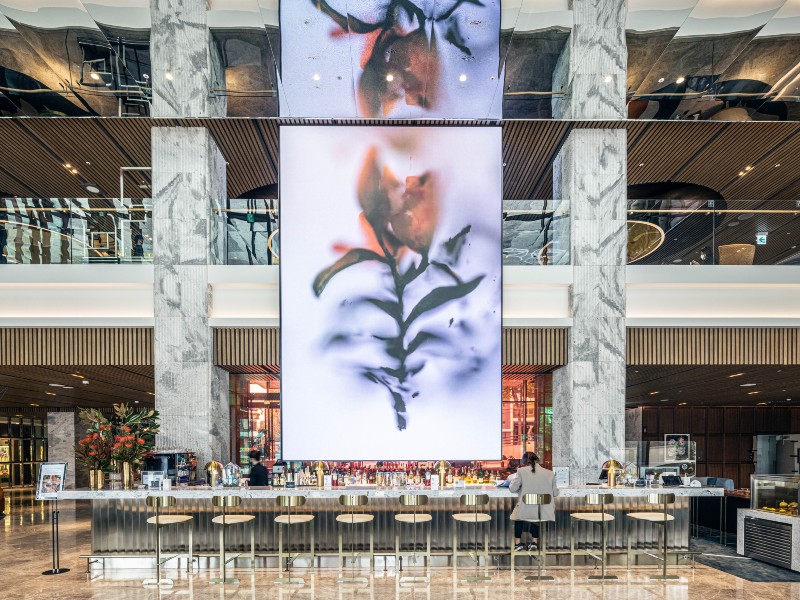 What Are the Types of Installation Art in Hospitality?
Digital art is a major player in a changing landscape. With a flood of new, cutting-edge tools on the market, public and private hospitality spaces are an exciting platform for the world's leading talent to display their work. The rising and intensified conversation around NFTs is cementing that digital art is here to stay and showcased in locations it has never been before.
"Video art is about the storytelling, the community that you can build, and the opportunity for people to have a platform, whether they're professional artists or not, to tell their stories individually," said Lionel Ohayon, Founder and CEO of ICRAVE, on how digital art is a new and exciting platform for artists.
The powerful impact of art in hospitality spaces has been felt in recent years and now, post-pandemic, these experiences are embodying the storytelling from public spaces into private rooms, ensuring continuity throughout the hotel and creating a meaningful connection with guests and brand affinity.
"We're reimagining the way that art is experienced in a digital age," said Rob Anders, co-founder and CEO of Niio. "Usually, screen means noise and information and advertising. We're looking at how these black screens that are all around us become canvases of inspiration. And this can be any type of screen."
Elevating Black Screen Void with Art
Niio partnered with The Mondrian Hotel in Seoul to transform its lobby with a collection of digital works which subtly switch the ambiance seasonally, creating a strong connection between the local culture and international visitors.
"When you have this massive (art) element, you can see guests talking to each other about this," explained Damien Perrot, Global Senior Vice President, Design & Innovation, Accor. "And it creates connectivity, a connection between people. And it is also a very good way to interact between employees and guests."
For Mondrian, integrating digital art is not just for the enticing guest experience, but also to solve a design pain point. "Most of the time we try to hide TV today, but when you put digital arts, you don't need to hide it because they're on the TV, it's not a screen anymore. It's not a TV anymore. It's a live art. It's really a big change."
An Instagram-Worthy Destination in a Click: A Digital Art Installation Example
Marriott's Aloft offers a fresh kind of hotel experience across 225 global Aloft hotels, which brings people together through immersive design and technology. With Niio's curatorial team, they have created a bespoke curated art program using Niio's tools for displaying and managing carefully selected artworks with the central management tool to rotate artworks in their hotels anywhere in the world at any time.
Marriott's Brian Jaymont, Senior Director & Global Brand Leader at Aloft Hotels & Moxy Hotels, shared why guest engagement was the driving force behind this project.
"Feedback from guests has been great," he said. "I see it on our social media more than I've ever seen a framed piece of art. Somebody standing in front of it, really excited to see it. It's really cool that we're able to just click and give them something new in the blink of an eye."
Creating the buzz-worthy experience isn't necessarily tied with high costs, and is more aligned with the growing need of innovation-on-a-dime.
"From an approachability standpoint, the cost is extremely satisfactory. I think one of the biggest feedback pieces that we get is that it's literally plug-and-play. And now that we've really scaled this, we're getting further ahead in development. So we're getting these in actually earlier in project designs and getting them installed before our openings of hotels." said Jaymont.
Anders added another advantage: "One of the key things for the hospitality industry is the commercial rights. No one needs to worry anymore about the rights. It's all one integrated environment and ecosystem (inside Niio), which deals with all of licensing."
With seamless, low maintenance technology and endless creative potential, utilizing existing screens and infrastructure and adopting digital art is an achievable strategy for hotels looking to stay at the hub of travel trends.
Where Creativity Meets Tech
Samsung is seizing on the digital art potential through a strategic global partnership with Niio to display high-quality moving image art and to transform displays with inspiring and unique experiences.
This partnership celebrates the combination of Samsung's best-in-class displays, Niio's innovation and the surge of interest in digital art. With the right technology in place, it's easier to access leading or emerging artists from around the world, who relish the opportunity to display their work, from video to interactive art.
Shawn O'Connell, Head of Hospitality at Samsung Electronics, described his point of view when building the tech solution for hotels. "(hotel) owners and brands are trying to digitally transform their guest experience from day to night. And I don't want to say they're turning their lobby into a nightclub, but they want something a little bit different on the walls at night versus day."
The flexibility of digital art has the advantage of easily catering to diverse needs. "The consistency of what the guest experience is, from starting point to the endpoint, is also relevant. Whether you're a large casino or cruise line that has a massive outdoor LED wall, or you've got something, a smaller display behind the front desk, or something in the elevator, or all the way to the guest room, you want to harmonize what that guest experience looks like and what it is, so that the brand is maintained and it's on message," said O'Connell.
As a vision for the future of digital art in hospitality spaces, Anders painted his own view: "We have to remember the technology's the enabler. Ultimately, the technology has now got to a place that makes it very seamless. (..) Digital canvas can be as creative as you want. It can be a monitor, it can be a projection, it can be a triangle. It doesn't really matter. We can turn anything into a canvas, especially when we're seamlessly working with people like Samsung."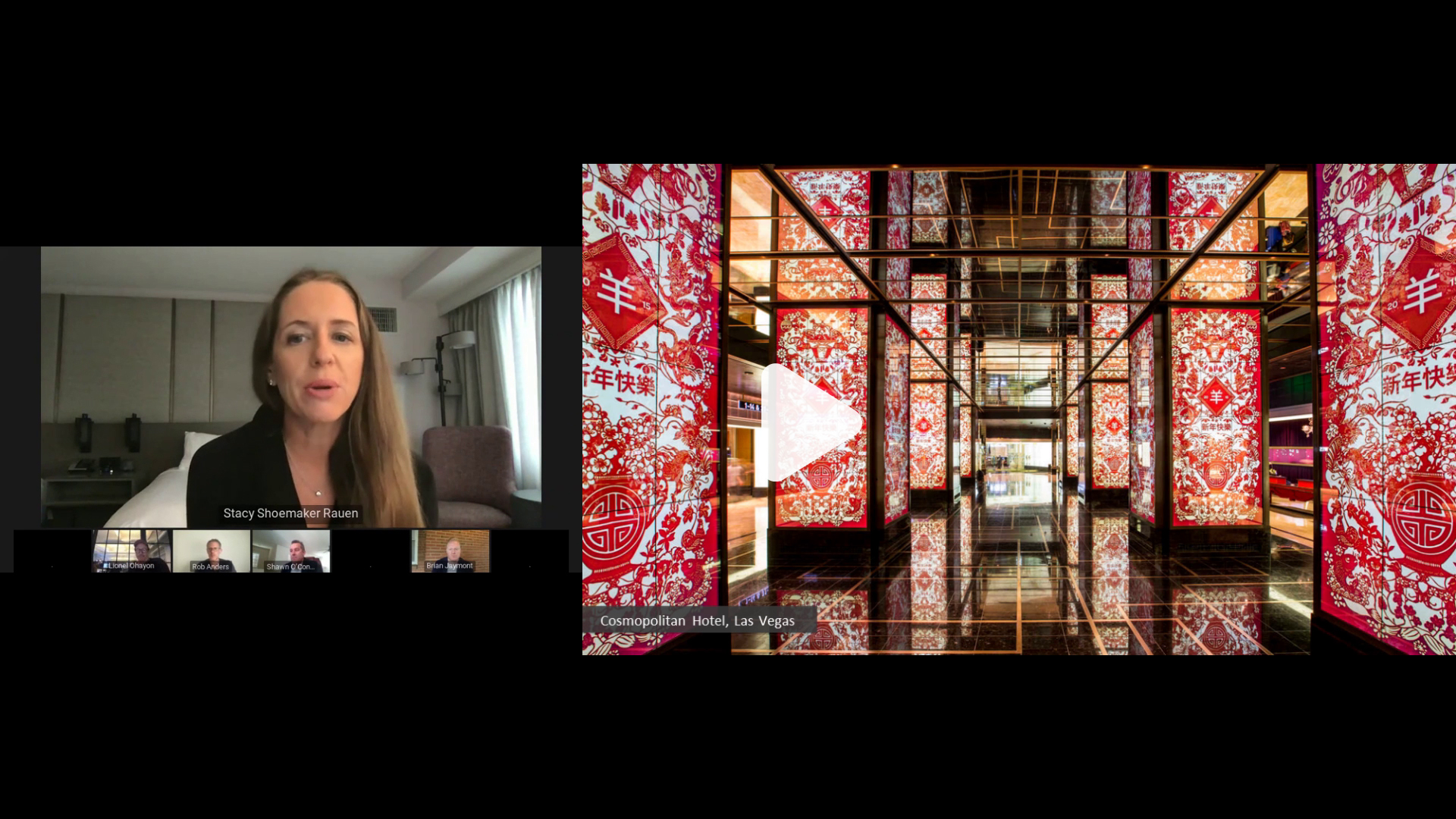 Curious about how to incorporate digital art into your interior design projects?