Quayola: Asymmetric Archaeology Gazing Machines reimagines the past and rediscovers nature through the perspective of the machine. Through the works in the exhibition, the past is revisited in relationship to the present and the future, exploring an asymmetry that excludes the subjective view of the human and instead brings to the fore machine-processed objective ideas. Through these processes, classical art forms such as Hellenistic sculptures, Old Master paintings, and Baroque architecture are detached from iconographical semantics of the past to be regenerated into digital abstract works. In addition, familiar visual tropes of nature are transformed into a new artificial landscape engendered by machinery.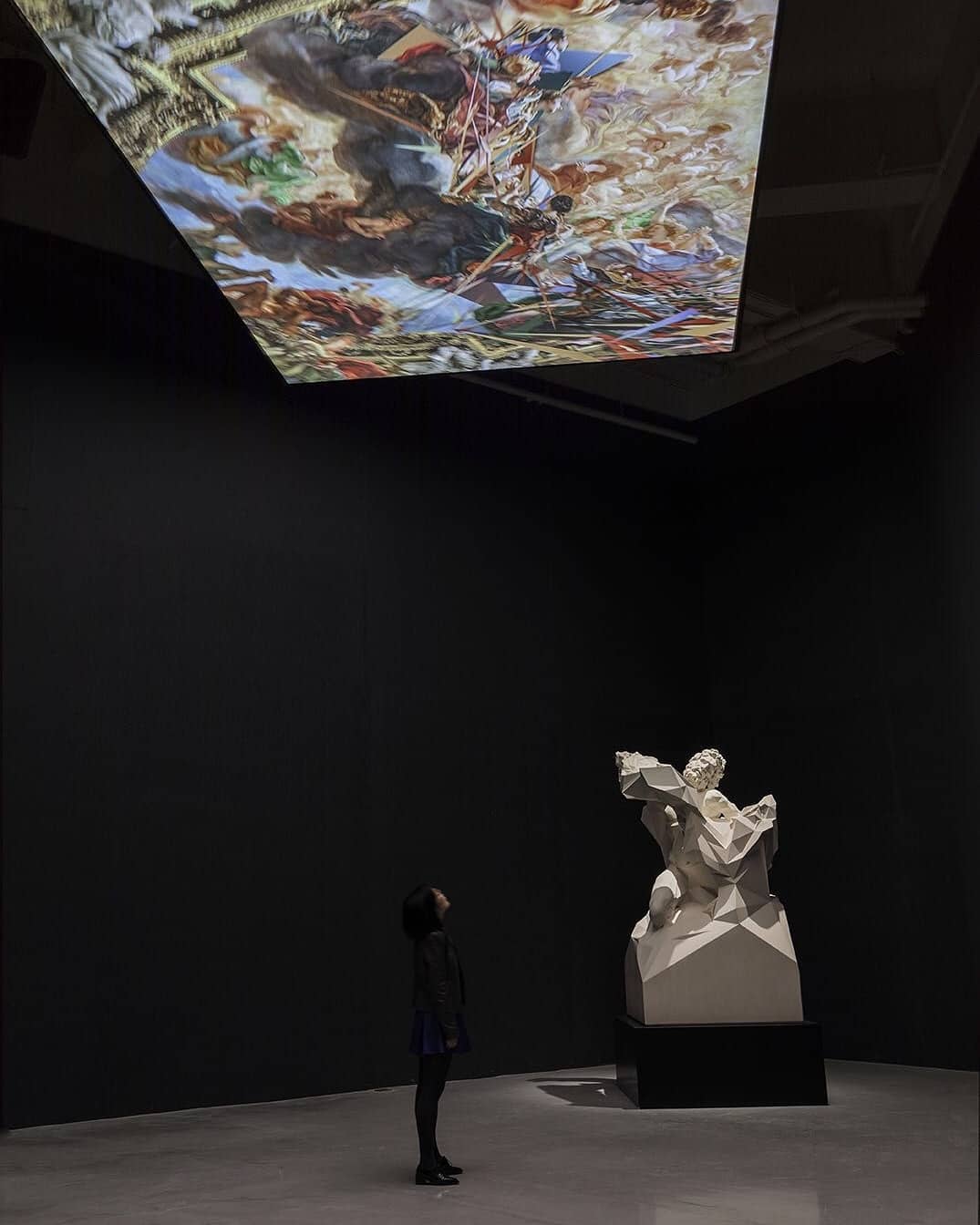 The artist's first large-scale solo exhibition in China consists of eight sections featuring artworks in a range of different media, including over 50 pieces of digital print, video, sculpture, and robotic installation. The expansive breadth of the exhibit presents major works by Quayola not only within the interior gallery space of HOW Art Museum, but also extends across the building's media facades. The exhibition was curated by Doo Eun Choi.
Strata, Iconographies, Sculpture Factory #2 and Laocoön are four projects that analyze classical paintings, sculptures, and architecture using complex computer algorithms, recreating contemporary abstract works by severing religious and mythical scenes from their past contexts. Sculpture Factory is inspired by the 'non-finito' technique of Michelangelo whereby unworked sections of the sculpture block mean that pieces appear unfinished. Into this scenario, the artist introduces a new performance undertaken by a large-scale robot, which sculpts infinite variations of Pluto and Proserpina, a Baroque masterpiece produced by Giovanni Lorenzo Bernini in the 17th century. Laocoön, meanwhile, draws inspiration from one of the most studied Ancient Greek sculptural masterpieces, Laocoön and His Sons. Quayola's work is the result of complex digital simulations and experiments with virtual/physical prototyping technologies.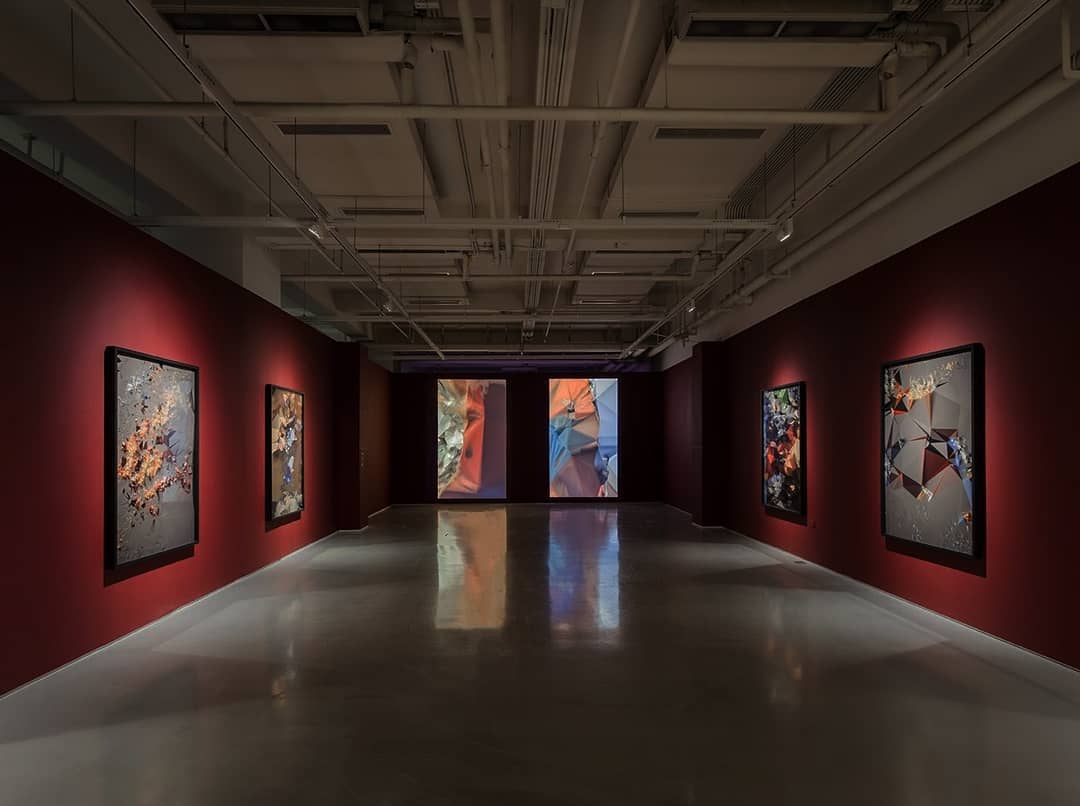 Remains, Promenade, Jardins d'Été and Camouflage represent ongoing projects that reexamine the familiar visual language of nature associated with traditional compositions of landscape paintings. Through intricate digital rendering processes, new digital landscapes emerge from actual natural scenes that are captured in high resolution using high-precision laser scanners and cameras. Diverse motifs come in to play for each work by recreating a new visual literacy; Remains observes the popular practice of en plein air (outdoor painting) of the late 19th century; Promenade explores the new aesthetics of contemporary autonomous vehicles and machine vision using a drone; and Jardins d'Été and Camouflage evoke imagery from the French impressionism of Claude Monet. Ultimately, the works become hybrid landscapes – neither real nor virtual – transcending the boundaries of the figurative and abstract domains.
Our banalities are freely detached from their original contexts to become new objects of contemplation through the peculiar mechanism of machinery and the complex algorithms of Quayola.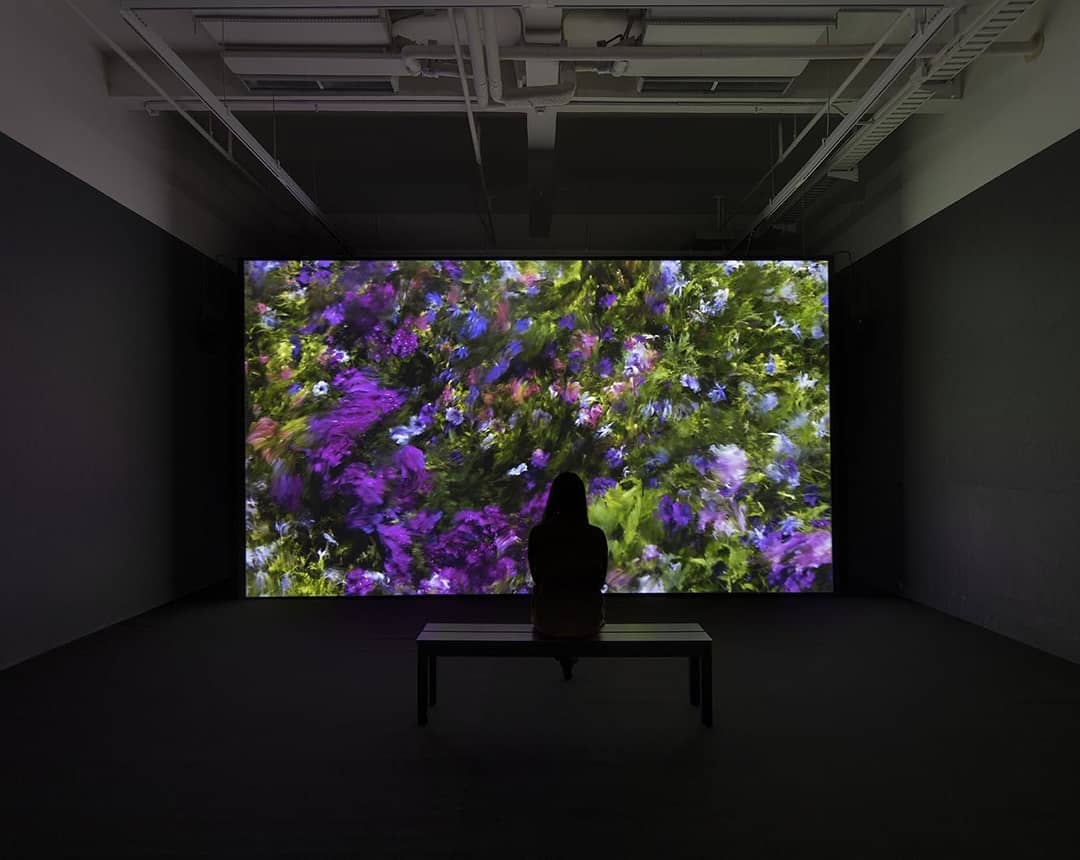 Quayola employs technology as a lens to explore the tensions and equilibriums between seemingly opposing forces: the real and artificial, figurative and abstract, old and new. Constructing immersive installations, often at historically significant architectural sites, he engages with and reimagines canonical imagery through contemporary technology. Hellenistic sculpture, Old Master painting, and Baroque architecture are some of the historical aesthetics that serve as a point of departure for Quayola's abstract compositions. His varied practice, all deriving from custom computer software, also includes audiovisual performance, video, sculpture, and works on paper.
Quayola's work has been shown widely around the world through 10 solo exhibitions and over 100 group exhibitions, public installations and performances. His past exhibitions include Park Avenue Armory, New York, USA; Victoria & Albert Museum, London, UK; Palais de Tokyo, Paris, France; Museu Nacional d'Art de Catalunya, Barcelona, Spain; Georgia Museum of Art, Athens, GA; Paco Das Artes, São Paulo, Brazil; Pushkin Museum, Moscow, Russia; Ars Electronica, Linz, Austria; Elektra Festival, Montreal, Canada; Sonar Festival, Barcelona, Spain; Japan Media Art Festival, Tokyo and Sundance Film Festival, Utah, USA.
Music collaborations include Vanessa Wagner, Ensemble Intercontemporain, National Orchestra of Bordeaux, London Contemporary Orchestra, Plaid, Jamie XX and Tale Of Us.
Special projects have been commissioned by Audemars Piguet; Bozar, Brussels; Cite' de la Musique, Paris; Palais des Beaux Arts, Lille and Canary Wharf Group, London.
THE EXHIBITION IS POWERED BY NIIO
"It's quite an amazing system for preserving, managing and distributing digital video editions. My gallerist and I are using Niio for transferring limited editions to buyers and to museums for exhibitions." Quayola, new media artists, represented by bitforms gallery, NY
Niio is the premium discovery, display and management platform for new media art, embraced by leading artists, galleries, museums, curators, collectors and arts organisations from around the world, who are using Niio's proprietary technology tools to securely safeguard, showcase, transfer, monetise and display thousands of their high-quality works on any type of "digital canvas.
HOW Art Museum
No 1, Lane 2277, Zuchongzhi Road
201203 Shanghai | China