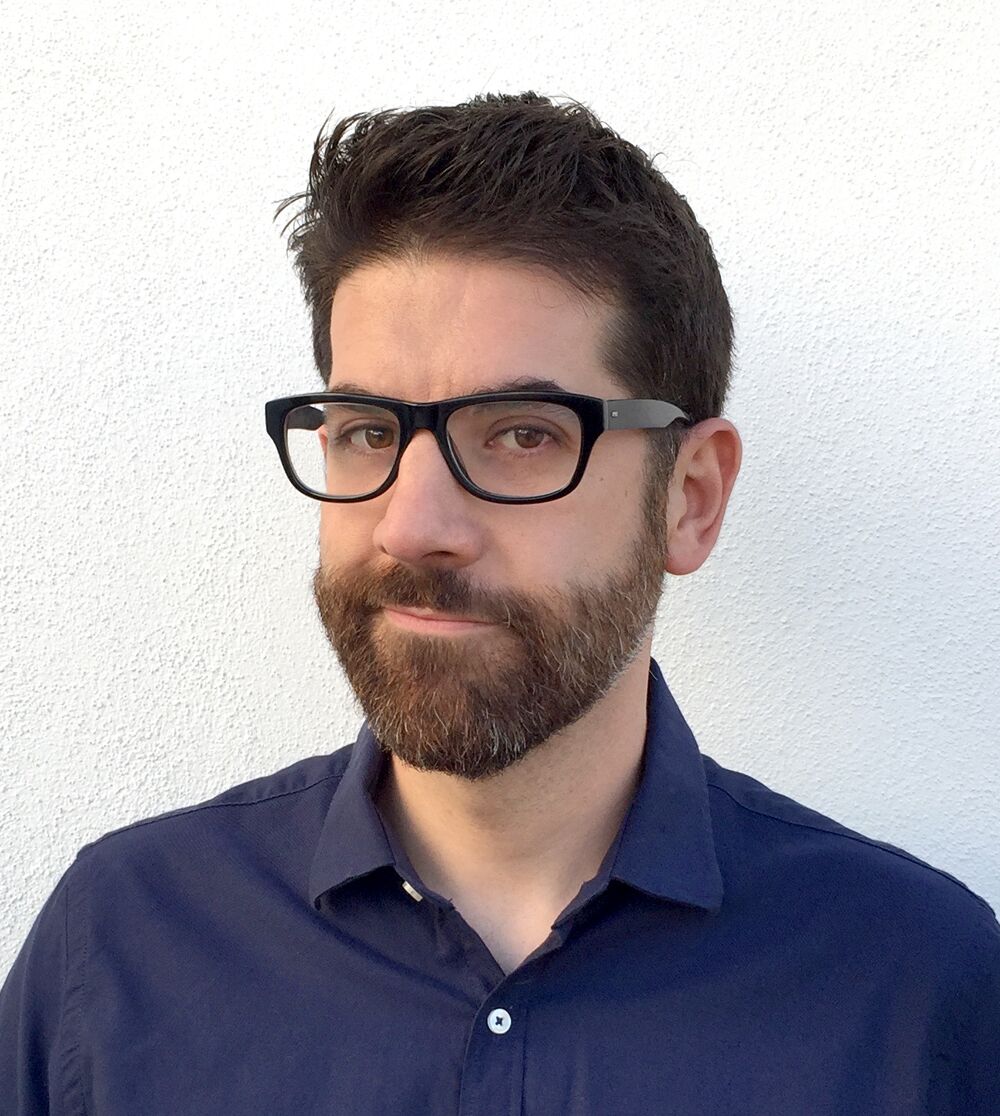 Art critic and curator, researcher in contemporary art and new media.
PhD in Information and Knowledge Society, Universitat Oberta de Catalunya (UOC) and Bachelor in Art History from the University of Barcelona. He has developed his career with a continuing interest in contemporary art and digital art, which he has explored from different perspectives: curator, critic, academic researcher and also working with contemporary art galleries.
Lumiere Festival, 11th – 15th Nov, 2015. Durham, UK. Utilizing methods of public intervention and video installation, Daniel Canogar's Asalto is a projection that symbolically releases our fantasies of overcoming imposed obstacles in our lives. Engaging individuals as spectators and participants, a staged interaction takes place between a "stormed" site and collected imagery of a virtual public. In the work's process of production, participants based in Durham, UK, were invited to crawl across a horizontal green screen, as if they were climbing up a wall. This filmed action is projected onto a facade. In either case, Asalto is born from a desire by the artist to have viewers project themselves, literally and metaphorically, onto their immediate environments.
Born in Madrid (1964) to a Spanish and an American mother, Daniel Canogar´s life and career have bridged between Spain and the U.S. Photography was his earliest medium of choice, but he soon became interested in the possibilities of the projected image and installation art. His fascination with the technological history of optical devices, such as magic lanterns, panoramas and zoetropes, inspired him to create his own projection devices. Fox example, in the late 90s he created a multi-projection system with fiber optic cables. The resulting artworks were mobile-like hanging sculptures that projected images onto surrounding walls. With the advent of digital technology, the artist continued re-conceptualizing visual media as sculpture. By projecting video animations onto salvaged obsolete electronics, he was able to metaphorically reveal the collective dreames trapped within DVDs, old calculators, video-game consoles or found computer hard drives. Also notable are Canogar´s public artworks using flexible LED screens. Like with his earlier fiber optic cable installations, he once again reinvents an existing technology to suit his artistic explorations; by using flexible LED tiles, he is able to create twisting ribbon-like screens for atriums and public spaces. He has created numerous public art pieces, including Tendril, a permanent sculptural LED screen for Tampa International Airport; Travesías, a sculptural LED screen commissioned for the atrium of the European Union Council in Brussels; Constelaciones, the largest photo-mosaic in Europe created for two pedestrian bridges over the Manzanares River, Madrid; and Asalto, a video-projection presented on various emblematic monuments including the Arcos de Lapa in Rio de Janeiro, Union Station in Toronto, Puerta de Alcalá in Madrid and ths church of San Pietro in Montorio in Rome.
The 'site studies' series are filmed interventions that haven't been widely accessible because of their location or their ephemeral quality. They are recordings of real video projected light on real architecture. They are filmed with the camera as a fixed observer and played back in a seamless, silent and continuous loop.
The 'site studies' series are filmed interventions that haven't been widely accessible because of their location or their ephemeral quality. They are recordings of real video projected light on real architecture. They are filmed with the camera as a fixed observer and played back in a seamless, silent and continuous loop.
Pablo Valbuena's practice and research is focused on space, time and perception. Born in Spain and currently based in the south of France. Some key elements of this exploration are the overlap of the real and the virtual, the generation of mental spaces by the observer, the dissolution of the boundaries between reality and perception, the links between space and time, the observer's experience as focus of the work and the use of light and sound as prime matter. These ideas are materialised as site-specific, ephemeral interventions that build and transform space with perceptual tools rather than physical ones. This body of work has been presented internationally in a wide range of contexts as site-specific commissions, museum and gallery exhibitions and large-scale urban interventions. more info at pablovalbuena.com
In this work, the artist creates an intriguing architectural space that the camera explores by moving always forward, through corridors, doors and walls generated by the computer in endless variations. The neat white structures, partly immersed in water, appear unstable and unreal. The dreamlike sequence invites us to explore a place that, while resembling a physical space, can finally only be perceived as a visual composition, always different yet somehow the same.
Gerhard Mantz was born in 1950 in Neu Ulm, Germany and currently lives and works in Berlin. His work has been shown extensively in Germany and Europe since the early 1980s and today enjoys an international reputation. Mantz's digital art was included in the group show "Minus Space" at New York's PS1 Contemporary Art Center / MoMA (October 19, 2008 – January 26, 2009).
Façade Life Antoine Schmitt 2007 Monumental generative installation on facade Synopsis Facade Life is a monumental active installation on facade. In Facade Life, an abstract visual shape endlessly paces on a facade, in relationship to its architectural elements. It slides on the borders, hits the window frames, bounces on the door sides, circulates in the available spaces. It inhabits it. Algorithms of artificial life and physical equations recreate the behavior of an abstract wild tiger in a cage : a nervous body, free but confined. Facade Life is issued from an artistic principle where existing facades are re-interpreted by programmed dynamics shapes, to initiate a dialectics between physical reality and a parallel level of reality. Site-Specific The Facade Life installations are site-specific installations, ephemeral or persistent, but always unique. Outside, they function only at night, but inside they can be permanent. They can be monumental (size of a building, more than one façade, …) or the size of a room.
Installation artist, Antoine Schmitt creates artworks in the form of objects, installations and situations to address the processes of movement in all of their modalities, and question their intrinsic conceptual problematics, of plastic, philosophical or social nature. Heir of kinetic art and cybernetic art, nourished by metaphysical science-fiction, he endlessly interrogates the dynamic interactions between human nature and the nature of reality. Originally programming engineer in human computer relations and artificial intelligence, he places the program, a contemporary artistic material and unique by its active quality, at the core of most of his artworks, to reveal and literally manipulate the forces at stake. Antoine Schmitt has also undertaken an articulation of this approach with more established artistic fields like music, dance, architecture, literature or cinema, and has collaborated with Franck Vigroux, Atau Tanaka, Vincent Epplay, Jean-Jacques Birgé, Delphine Doukhan, K.Danse, Patrice Belin, Don Nino, Cubenx, Alberto Sorbelli, Matthew Bourne… As theoretician, speaker and editor of the gratin.org portal, Antoine Schmitt explores the field of programmed art.
My name is Serafín Álvarez, I am an artist, researcher and teacher. I was born in León (Spain) in 1985. I now live and work in Barcelona.
My work focuses on how concepts associated with liminality, non-human otherness, the journey into the unknown and changes in the perception of reality are represented in contemporary audiovisual media such as cinema and video games.
I have shown my work at centres such as Asakusa (Tokyo), CA2M (Móstoles), CAC (Vilnius), La Casa Encendida (Madrid), CentroCentro (Madrid), Fundació Joan Miró (Barcelona), MACBA (Barcelona), MUSAC (León), La Panera (Lleida) and Trafó (Budapest) amongst others.
I have a MFA and a BFA from the University of Barcelona, where I am currently doing a research project on transmedia expansion of science fiction and fan cultures surrounding the genre as part of my PhD.
Other projects include Ona, an art educational program that I curate at Sant Andreu Contemporani; Gravitacions, an art educational project that I run at Fundació Joan Miró's Espai 13; Sons de Barcelona, a sound pedagogy project linked to the Music Technology Group that I co-run at Pompeu Fabra University; and BAU, a design college where I teach within the Art department. Also, I occasionally write program notes for Sampler Sèries at L'Auditori de Barcelona.