Niio x Art Asia Awards 2019
Curated Catalog Media Art
Curated by AAA19 Jury & Niio Curatorial
We're delighted to present the winning artworks of The Niio x Art Asia Awards 2019.
The Niio x Art Asia Awards is an open call series for new media artists from around the world.
The winning artwork was created by Jack Alexandroff. Second place: Juhana Moisander,  Third place:Nicolás Rupcich. Fourth place: Alexandre Erre. Fifth place: Pascual Sisto.
We'd like to extend a gracious thank you to all participants for their effort and creativity, and to our respected international Jury for the detailed and thoughtful selection process.
As new media art moves beyond the white walls of galleries, it has the potential to engage with a wider audience than previously possible. The AAA open call aims to reimagine how we experience immersive art in public and private spaces around the world. The selections were made by a jury of art-world professionals whom reviewed all entries and shortlisted the most striking and original pieces that tell a story and ignite emotion.
Starting with the otherness of living in the unfamiliar culture of Hong Kong and then moving to the UK the film describes Jacks geographical and psychological journey. As he begins to understand his own otherness he is also forced to confront mortality in progressively more severe ways. If micro is used to explore the solace available in nature's brutal life-death cycle. Charcoal drawings serve to imagine the truly subjective experience which suspends the film in the vivid psychic landscape of memory. The film shares with the audience Jack's dismay and joy at the natural world as well as his exhilaration and horror at the human condition. Along the way it provides the viewer with the experience of scientific discovery, gaining insights about plants from a perspective human beings can barely inhabit. By showing the life and death processes that plants and fungus move through with grace and simplicity, I implore the viewer to strip down the subjectivity of human experience in order to inhabit a new perspective.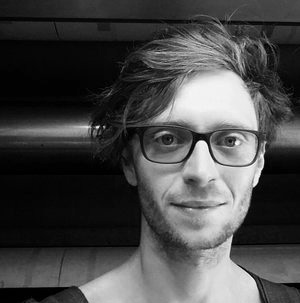 A mind is a machine but each one is different. Jack, who has dyslexia, HDHD and dyspraxia, is doubly so and this discord with the world is his song. Compounded by being raised an immigrant in Asia and then returning to Europe, his fascination with the human condition and its place in the natural world has never left him. Life and death, emergent properties of matter and biology circle around his work while the subjectivity of man's "umwelt" is at its core.
Jack is of all trades and though lacking mastery in any, his holistic synthesis of fields is always engaged in finding new ground to till and seed with new species. His practice as a filmmaker crystallised during his undergraduate degree at University of Westminster, London and has since been honed at the Royal College of Art's Documentary Animation MA degree.
His work continues in film as he also develops an educational project that aims to blend the tutorial systems embedded within video games with the school classroom to push curriculums back towards John Dewey and Friedrich Froebel's ideals –  the subject of his Masters dissertation.
The Ethology of a Man was premiered at the EMMA ( Espoo Museum of Modern Art, Finland) in March 2019 (will run till 7.7.2019 ). Technically the installation was made with two 4K projectors and surround sound system run by computer and Picturall programme. The size of the projected area is 13m x 3.2 m ( characters in the video in humanscale ). The Ethology of a Man examines models of human group behaviour that repeat themselves from one historical era to another. The video installation was created in cooperation with a contact improvisation group and features a strong soundscape. With their movements, the performers depict different scenes that show dynamics of power, such as a crowd in a frenzied ecstasy and the rise and fall of leaders.
Juhana Moisander (b. 1977) combines video projections with sound and objects, always fitting the piece into the given space and its architecture. Although the works often refer to art history and studied knowledge, Moisander's works still link strongly with the mundane and everyday life. Moisander is creating us a strong spatial atmosphere with fragmental stories growing from his personal and common history.
In "EDF" the Chilean Patagonian landscapes from the "Torres del Paine National Park" are the main protagonists. As the video develops the images are slowly been deleted. The intervention consists in a "monumental black block" that literally blocks the landscape images. What we finally see is similar to the logic of the "fade to black" transition, the difference here is that not only the two-dimensional image fades to black, but also the topography is gradually covered. One of the main ideas in the project is the problem of digital representation, in the context of what some people calls the "post-photography era", where the images are no longer a representation of reality, but a way of reality itself. The annulation of the geography in the screen is an effort for making a simple visual but symbolically strong intervention that make us aware of the instability of the representational surface.
Nicolás Rupcich (1981, Santiago, Chile) lives and works in Leipzig, Germany. Received his BFA from the Universidad Finis Terrae and his MA from the Universidad de Chile. Between 2013-2015 he did his Meisterschüler studies in Medienkunst at the Hochschule für Grafik und Buchkunst Leipzig. He has exhibited his works mainly in solo and group shows, but also in international video and new media festivals, such as: FILE Festival, Sao Paulo, Brazil. Ars Electronica, Linz, Austria. Transmediale, Berlín, Germany. Loop Festival, Barcelona, Spain, among others. Some of his recent grants and awards: DAAD Scholarship 2012-2015. 1st place in photography prize granted by Galería Patricia Ready, 2014. 2nd prize at FIVA international video festival, Buenos Aires, Argentina, 2015.
Your presence is no longer required
A vision.
That of a world inhabited only by birds.
There isn't a soul left.
But after all, our presence is no longer required.
This short was film in the Pacific island of New-Caledonia. In this place the ecosystem is very fragile and has already been modified a lot. Animals and plants were introduced, sometimes with a purpose in mind and sometimes unknowingly. Mountains are peeled off to extract the nickel. This video imagines a future deprived of humans were birds watch over the empty spaces left. The beautiful peacocks enjoy this freedom as we listen to the cacophony of the Common Myna.
Alexandre Erre is a Paris based artist. He was born New-Caledonia where he lived for about 17 years. He studied at the École Supérieure d'Art et Design de Grenoble and then at École Nationale Supérieure d'Art de Paris-Cergy. Through the use of installations, sculptures, videos, photographs, interventions in public spaces, performances and engraving, he dissects the codes and norms to question and create memories, tales and fictions. Alexandre Erre's practice revolves around his native island, New-Caledonia, and broadly speaking around the processes of exotisation, racializing, gendering, domination or cultural hierarchy. His questioning, at the crossroads of gender, sexuality and community lean on his personal background and summons his insularity and his current diaspora status.
Aucuba Expanded samples the organic occurring markings native to a peculiar household plant commonly known as the gold dust laurel (Aucuba Japonica 'Variegata'); a plant variety that has been produced in strict cultivation by selective breeding. The synthesized version of the pattern is generated by an algorithm that randomly arranges the golden spots in space. Control and randomness are used in equal measure to recreate this naturally occurring organic pattern. This version includes 3 looped animations of three different specimens with monochromatic transitions.
Pascual Sisto is an artist and filmmaker currently working between New York and Los Angeles. He graduated with a BFA from the Art Center College of Design in Pasadena, California, and a MFA from the University of California in Los Angeles. He also attended the Skowhegan School of Painting and Sculpture in 2011 and is a recipient of the 2012 California Community Foundation Emerging Artist Fellowship, the 2011 ARC Durfee Foundation grant and the 2017 NYSCA/NYFA Artist Fellowship in Digital/Electronic Arts. He was recently awarded the Workspace Artist Residency from the Lower Manhattan Cultural Council and the Visual Arts residency at Pioneer Works in Brooklyn. His work has been reviewed in Art of America, Flash Art, Los Angeles Times and Vice Creator's Project. Recent exhibitions include 5 Car Garage (Los Angeles), Galerie Lisa Kandlhofer (Vienna) Arturo Bandini (Los Angeles) and Smart Objects (Los Angeles).