Niio x Art Asia Awards 2019
Curated by AAA19 Jury & Niio Curatorial
We're delighted to present the jury selections of The Niio x Art Asia Awards 2019 catalog. 
The Niio x Art Asia Awards is an open call series for artists, as part of an important initiative to expose diverse media and video art from around the world to wide audiences in private and public spaces.
The selected artworks excelled in their concepts, uniqueness, quality and compliance with the theme. We'd like to extend a gracious thank you to all participants for their effort and creativity, and to our respected international Jury for the detailed and thoughtful selection process.
As new media art moves beyond the white walls of galleries, it has the potential to engage with a wider audience than previously possible. The AAA open call aims to reimagine how we experience immersive art in public and private spaces around the world. The selections were made by a jury of art-world professionals whom reviewed all entries and shortlisted the most striking and original pieces that tell a story and ignite emotion.
Starting with the otherness of living in the unfamiliar culture of Hong Kong and then moving to the UK the film describes Jacks geographical and psychological journey. As he begins to understand his own otherness he is also forced to confront mortality in progressively more severe ways. If micro is used to explore the solace available in nature's brutal life-death cycle. Charcoal drawings serve to imagine the truly subjective experience which suspends the film in the vivid psychic landscape of memory. The film shares with the audience Jack's dismay and joy at the natural world as well as his exhilaration and horror at the human condition. Along the way it provides the viewer with the experience of scientific discovery, gaining insights about plants from a perspective human beings can barely inhabit. By showing the life and death processes that plants and fungus move through with grace and simplicity, I implore the viewer to strip down the subjectivity of human experience in order to inhabit a new perspective.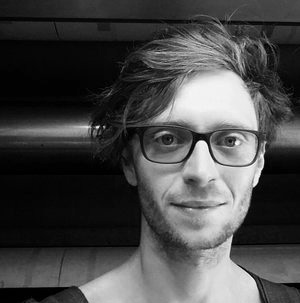 A mind is a machine but each one is different. Jack, who has dyslexia, HDHD and dyspraxia, is doubly so and this discord with the world is his song. Compounded by being raised an immigrant in Asia and then returning to Europe, his fascination with the human condition and its place in the natural world has never left him. Life and death, emergent properties of matter and biology circle around his work while the subjectivity of man's "umwelt" is at its core.
Jack is of all trades and though lacking mastery in any, his holistic synthesis of fields is always engaged in finding new ground to till and seed with new species. His practice as a filmmaker crystallised during his undergraduate degree at University of Westminster, London and has since been honed at the Royal College of Art's Documentary Animation MA degree.
His work continues in film as he also develops an educational project that aims to blend the tutorial systems embedded within video games with the school classroom to push curriculums back towards John Dewey and Friedrich Froebel's ideals –  the subject of his Masters dissertation.
The Ethology of a Man was premiered at the EMMA ( Espoo Museum of Modern Art, Finland) in March 2019 (will run till 7.7.2019 ). Technically the installation was made with two 4K projectors and surround sound system run by computer and Picturall programme. The size of the projected area is 13m x 3.2 m ( characters in the video in humanscale ). The Ethology of a Man examines models of human group behaviour that repeat themselves from one historical era to another. The video installation was created in cooperation with a contact improvisation group and features a strong soundscape. With their movements, the performers depict different scenes that show dynamics of power, such as a crowd in a frenzied ecstasy and the rise and fall of leaders.
Juhana Moisander (b. 1977) combines video projections with sound and objects, always fitting the piece into the given space and its architecture. Although the works often refer to art history and studied knowledge, Moisander's works still link strongly with the mundane and everyday life. Moisander is creating us a strong spatial atmosphere with fragmental stories growing from his personal and common history.
In "EDF" the Chilean Patagonian landscapes from the "Torres del Paine National Park" are the main protagonists. As the video develops the images are slowly been deleted. The intervention consists in a "monumental black block" that literally blocks the landscape images. What we finally see is similar to the logic of the "fade to black" transition, the difference here is that not only the two-dimensional image fades to black, but also the topography is gradually covered. One of the main ideas in the project is the problem of digital representation, in the context of what some people calls the "post-photography era", where the images are no longer a representation of reality, but a way of reality itself. The annulation of the geography in the screen is an effort for making a simple visual but symbolically strong intervention that make us aware of the instability of the representational surface.
Nicolás Rupcich (1981, Santiago, Chile) lives and works in Leipzig, Germany. Received his BFA from the Universidad Finis Terrae and his MA from the Universidad de Chile. Between 2013-2015 he did his Meisterschüler studies in Medienkunst at the Hochschule für Grafik und Buchkunst Leipzig. He has exhibited his works mainly in solo and group shows, but also in international video and new media festivals, such as: FILE Festival, Sao Paulo, Brazil. Ars Electronica, Linz, Austria. Transmediale, Berlín, Germany. Loop Festival, Barcelona, Spain, among others. Some of his recent grants and awards: DAAD Scholarship 2012-2015. 1st place in photography prize granted by Galería Patricia Ready, 2014. 2nd prize at FIVA international video festival, Buenos Aires, Argentina, 2015.
Your presence is no longer required
A vision.
That of a world inhabited only by birds.
There isn't a soul left.
But after all, our presence is no longer required.
This short was film in the Pacific island of New-Caledonia. In this place the ecosystem is very fragile and has already been modified a lot. Animals and plants were introduced, sometimes with a purpose in mind and sometimes unknowingly. Mountains are peeled off to extract the nickel. This video imagines a future deprived of humans were birds watch over the empty spaces left. The beautiful peacocks enjoy this freedom as we listen to the cacophony of the Common Myna.
Alexandre Erre is a Paris based artist. He was born New-Caledonia where he lived for about 17 years. He studied at the École Supérieure d'Art et Design de Grenoble and then at École Nationale Supérieure d'Art de Paris-Cergy. Through the use of installations, sculptures, videos, photographs, interventions in public spaces, performances and engraving, he dissects the codes and norms to question and create memories, tales and fictions. Alexandre Erre's practice revolves around his native island, New-Caledonia, and broadly speaking around the processes of exotisation, racializing, gendering, domination or cultural hierarchy. His questioning, at the crossroads of gender, sexuality and community lean on his personal background and summons his insularity and his current diaspora status.
Aucuba Expanded samples the organic occurring markings native to a peculiar household plant commonly known as the gold dust laurel (Aucuba Japonica 'Variegata'); a plant variety that has been produced in strict cultivation by selective breeding. The synthesized version of the pattern is generated by an algorithm that randomly arranges the golden spots in space. Control and randomness are used in equal measure to recreate this naturally occurring organic pattern. This version includes 3 looped animations of three different specimens with monochromatic transitions.
Pascual Sisto is an artist and filmmaker currently working between New York and Los Angeles. He graduated with a BFA from the Art Center College of Design in Pasadena, California, and a MFA from the University of California in Los Angeles. He also attended the Skowhegan School of Painting and Sculpture in 2011 and is a recipient of the 2012 California Community Foundation Emerging Artist Fellowship, the 2011 ARC Durfee Foundation grant and the 2017 NYSCA/NYFA Artist Fellowship in Digital/Electronic Arts. He was recently awarded the Workspace Artist Residency from the Lower Manhattan Cultural Council and the Visual Arts residency at Pioneer Works in Brooklyn. His work has been reviewed in Art of America, Flash Art, Los Angeles Times and Vice Creator's Project. Recent exhibitions include 5 Car Garage (Los Angeles), Galerie Lisa Kandlhofer (Vienna) Arturo Bandini (Los Angeles) and Smart Objects (Los Angeles).
The video work "noise above our heads" shows (natural) rock formations and (artificial) architecture fragments morphed into one another, as if they emerged together, as a dystopian scenario. The architectural spaces mounted into the boulders recall Bruno Taut's sketches of Alpine architectural visions. The "noise around our heads" evokes the image of a threatened danger; the camera motion that seems directly downward, a vertical pan-shot, suggests a motion of falling that is disturbing to the beholder. The threat itself cannot be located, the falling never culminates in a collision. The tension has no release, the threat has become permanent. Allegorically speaking, the work explores the question of the concealed and for the public inaccessible sites of data, bunker-like server-spaces that store billions upon billions of bytes of information.
Claudia Larcher's highly distinctive body of work encompasses photo-collage, site-specific video animation, and mixed media installation. Many of her moving image pieces take the form of digitally-manipulated explorations of interior spaces in which people are absent and yet their imprint is unmistakably present. At the heart of Claudia Larcher's work, whatever the medium, is a preoccupation with architecture, and with the traces of history and memory that suffuse particular places. Her work has been shown internationally in exhibitions, cinemas and at film festivals: f.e. Anthology Film Archives NYC, Museum of the Moving Image NYC, Slought Foundation Philadelphia, Calouste Gulbenkian Foundation Lisbon, Centre Pompidou Paris, Museum of Contemporary Art Roskilde, Ars Electronica Festival, Kunsthalle Wien, Tokyo Wondersite Japan; Claudia Larcher currently lives and works in Vienna.
Soft Plots portrays a conception of urban living that is both group-oriented and discontinuous, with underlying conflicts and competitions. In many ways, we live in big cities like we live in small towns—except that our communities are scattered across a dense network of other communities and other storied lives of which we only catch a glimpse. Soft Plots is a mental map of meaningful locations and (richly-inhabited) voids in between.
To afar the water flows reconstructs the city into a high-rise garden utopia, emphasizing a genuine harmony between man-made structures and its natural surroundings. A decade ago, I left my home in Beijing, where the rapid transformation of the urban landscape dramatically reshaped the city and people's lives, and I came to America to begin an immigrant's journey—migrating from the west coast to the east coast, and from the east coast to the Midwest. To afar the water flows is both a visual diary of this journey and a loving portrait of American cities.
Yuge Zhou is a Chinese born, Chicago-based artist whose video and installation works explore urban environments as they are inhabited with the collective rhythms and patterns of human activities. Zhou earned her Master of Fine Arts from the School of the Art Institute of Chicago. She also holds a Master's degree in Computer Engineering from Syracuse University. Zhou has exhibited her work nationally and internationally including the Grand Rapids Art Museum; Elmhurst Art Museum; Spartanburg Art Museum; Zarya Center for Contemporary Art in Russia; Chicago Cultural Center; SIGGRAPH Asia in Kobe, Japan; Chicago Design Museum; Athens Institute for Contemporary Art (GA); Microscope Gallery in Brooklyn NY and ISEA 2016 in Hong Kong among many others. Zhou's work has also been featured in the New York Magazine; The Huffington Post, Whitehot Magazine of Contemporary Art and Aesthetica Magazine. Zhou received the 2017 Santo Foundation Individual Artist Award.
"Pigeons" articulates and challenges the pattern recognition we use when we're watching film. Displacements and repetitions create a meditative dream logic that gradually empties the pictures for meaning. What is left is a tactile interlacing of slow-motion video loops that invites to individual associations of the texture. The rhythmical and musical qualities make sound unnecessary. Pigeons build a bridge between Muybridge's investigations on the movements of animals to nowadays sphere of gif-files, screensavers and memes. The analogue recording is drawn into a digital space where reality can be tweaked to a point where it's flickering between documentation and artistic material.
Everyday situations shot in super slow motion transforms the movements of an old lady into abstract choreography. The film explores the perception of time and forces the viewer to pay attention to details that one would usually take for granted.
Jeppe Lange is a filmmaker studying at The Royal Danish Academy of Fine Arts. His work covers the field between documentary and experimental film; reality seen through a conceptual lens. During the last four years he's had several films on festivals in Denmark, USA, Germany, Italy, Croatia etc. Jeppe Lange was born 1987. He lives and works in Copenhagen.
Peripheral Light Air and Sun
collaborative project by Krassimir Terziev/Daniel Koetter Suburb, wasteland, ghetto… there are many negative categorisations by which one easily describes the urban peripheries. Yet, it is obvious that in most European cities nowadays much more people live in the peripheries than in the city cores. However, the public attention towards the peripheries is scarce compared to the icons in the centre shaping the image of any city at present. But one can learn a lot from the peripheries about the actual forces of urban expansion at work in the contemporary metropolises. The shift from overarching, comprehensive and visionary urban planning to more project based approach tackling pragmatic problems of the day and seeking quick turn over is especially visible in those urban districts planned and built on the modernist blueprints of "light, air, and sun". Administrative as well as geographical city borders divide space into inside and outside, into what belongs and what is beyond. The spatial relations on both sides of the border are not symmetrical for the city produces things, that it has to exclude from its centre, in order to guarantee the functionality of the living together: waste, dead corpses, criminals and socially marginalised. On the other hand the peripheries can fulfil the need for recreation, life in the green space, better air, less density and pollution. Living in the periphery therefore can be understood equally as Stigma and privilege.
Krassimir Terziev is an interdisciplinary artist and researcher whose work spans a diversity of media, including video/film, photography, painting/drawing, and text, questioning the boundaries between reality and fiction, while exploring the manifold transitions and tensions between a globalized world, dominated by overwhelming multiplicity of symbolic imagery, and its material groundings in technological, physical and human 'hardware'. He holds a Ph.D. in Cultural Anthropology from Sofia University (2012) and an MA degree in Painting from the National Academy of Arts, Sofia (1997), lecturing in both institutions since 2012. His work is part of the public collections of Centre Pompidou/MNAM; Arteast 2000+ Collection, Moderna Galerija Ljubljana; Sofia City Art Gallery; Kunstsammlung Hypovereinsbank among others. Born 1969 in Dobrich, Bulgaria. Lives and works in Sofia.
main music track "HHH – Kosta T & Ghofra Z" short excerpts from Ria Rosa "Fresca fresca" text from Ella Firtzgerald and Louis Armstrong "Let's Call the Whole Thing Off" Digital images courtesy of Getty's Open Content Program Rijksstudio – Rijks Museum public domain collection DADALOOP is a dadaist ratatouille of images in which food becomes a dream – or nightmare – and the reflection of schizophrenic diets in the claustrophobic frame of a self-portrait. The film stages a series of surreal trompe l'oeil inside an artificial 3D landscape in which an hybridized language brings together original video clips – starring the artist herself – and animations made with a collage of cut-out images from famous works of art related to the theme of food.
Francesca Fini is an interdisciplinary artist working with experimental cinema, digital animation, new media, installation and performance art. Her many and varied projects, often addressing issues related to femininity, the distortions in the perception of beauty, the influences of society on gender and women's issues, are a mix of traditional and digital media, lo-fi technology, 3D animation, homemade interaction design devices, live audio and video. Her work has been presented in many important international festivals and venues, among them the 2011 WRO Biennale in Poland, NordArt International Art Exhibition in Germany, at FILE Electronic Language International Festival in Brasil, at CYBERFEST in Russia, at Instants Video numériques et poétiques in Marseille, at BORDERCROSSING collateral event @ MANIFESTA12 in Palermo, at the Guggenheim Museum in Bilbao for MEM Festival, at MANA Contemporary for BODY + CAMERA FESTIVAL, at MACRO and MAXXI Museum in Rome, at SomoS Art House in Berlin, at the Japan Media Arts Festival in Tokyo and the Margaret Guthman Musical Instrument Competition, organized by the Georgia Institute of Technology in Atlanta.
"Chepu" was recorded on the island of Chiloé, in southern Chile. The title of the video is homonymous with a river of this island where there is a dead submerged forest, in which the trunks of the trees still appear on the surface of the water. This place was chosen for recording as it functions as an antithesis to the commercial representation of landscape. From the market of high and ultra high definition image emanates a sense of representation of bright, dazzling and artificial reality, which merges with our most everyday reality. These current image quality standards have taken the manipulation and aesthetization of the world to an extreme. Post-processed landscapes images are migrating into the unreal and fictional, that's what we understand today as our natural landscape thanks to the digitalization of the world. In this video the images of a dead natural referent have been digitally intervened with formal gestures that make visible the violence that the image manipulation/post-production can have in the construction and supplantation of reality.
Nicolás Rupcich (1981, Santiago, Chile) lives and works in Leipzig, Germany. Received his BFA from the Universidad Finis Terrae and his MA from the Universidad de Chile. Between 2013-2015 he did his Meisterschüler studies in Medienkunst at the Hochschule für Grafik und Buchkunst Leipzig. He has exhibited his works mainly in solo and group shows, but also in international video and new media festivals, such as: FILE Festival, Sao Paulo, Brazil. Ars Electronica, Linz, Austria. Transmediale, Berlín, Germany. Loop Festival, Barcelona, Spain, among others. Some of his recent grants and awards: DAAD Scholarship 2012-2015. 1st place in photography prize granted by Galería Patricia Ready, 2014. 2nd prize at FIVA international video festival, Buenos Aires, Argentina, 2015.
Experimental 3D animation, 4K dual channel video (synchronized), 2.1 sound, 11 minutes 3 seconds, 3840×1080 pixels, 2018 "ROTATION METHOD" is a 3D animated short film. The title is in reference to Soren Kierkegaard's theory of the same name, which proposes a mechanism used by aesthetes to avoid boredom, but leads to a state of despair. The film depicts a surreal exploration of a traveler in a gold plated racing helmet, accompanied by a dog with a phonograph head. The protagonist's expedition brings pleasure, but at the same time leads to difficult circumstances and extreme conditions, as shown through moments of tension between the character and his companion.
Frank WANG Yefeng (born in 1984) is an interdisciplinary artist based in Providence (RI, USA) and Shanghai, China. He received his MFA in Art and Technology Studies at the School of the Art Institute of Chicago in 2011, and currently serves in the Digital Media Art program as an Associate Professor at Rhode Island College. Yefeng works critically across media including Experimental 3D animation, virtual reality, 3D printing and mixed-media installation. His practice is often presented through his intervention in exhibition spaces with his video installation using poetic and peculiar visual language between real and fantasy. Yefeng actively pursues his artistic career in both East and West. His work has been exhibited in numerous venues including BRIC Biennial (Brooklyn, NY), File Festival (Sao Paulo, Brazil), Governors Island Art Fair (NY,NY), Herald Square (NY, NY), HEREarts Center (NY, NY), NARS Foundation (Brooklyn, NY), Knowdown Art Center (Brooklyn, NY), SUNY Wallace Gallery (Long Island, NY), El Museo Cultural de Santa Fe (NM), Co-prosperity Sphere Culture Center (Chicago, IL), Gene Siskel Film Center (Chicago, IL), Hyde Park Art Center (Hyde Park, IL), International Festival Les Instants Video (Marseilles, France), Festspielhaus Hellerau (Dresden, Germany), Art Museum of Nanjing university of the Arts (Nanjing, China), Between Art Lab (Shanghai & Beijing, China), Chi K11 Art Museum (Shanghai, China), etc. In 2018, Yefeng was selected as "The Artist to Watch in 2018" by Take Magazine.
In the digital age, what are the possibilities to preserve the memory of a space? Analyzing space is a way to recall sensory memories; however, memories cannot be placed in chronical order by "me," who is living in the present. As suggested in The Poetics of Space, it entails "spatializing" the temporality of memory to trace those unforgettable events, just like the moisture of the wooden floor and slanting sunlight in the afternoon shining through the window can help one, within an orchestrated external environment, recall the background of a fragment of memory. Even though the window lattice or the wooden floor no longer exists, yesterday's experience stays in heart, lingering. Hence, the more noticeable the specialization is, the easier it is to help us transport back to the scene of the unforgettable past event. By employing a digital tool for experience, it allows the viewers to break away from the limitations of the body and space, therefore able to decide on their viewing perspective. With the information of a physical space obtained, representing a missing scape of where the viewer stands, will make revisiting the departed scene possible. Moreover, with the visual framework built around the body, and the sense of direction and the fluidity of the path outlined, it will provide us with more possibilities to relocate those lost scenes, and upon the moment the path is envisioned, one will already be setting his/her foot on the journey at the invitation of the space.
Huang's work focuses on how to describe a space that pass away or exists only in imagination via digital images. To reconstruct the virtual environments of people and space. His work seeks to create floating relationships between past and future, imagination and reality. And to make it possible to "revisit" a "new place" through his process. Huang Wei-Hsuan attained his M.F.A degree from Graduate School of New Media Arts, Taipei National University of the Arts. His works seek to create conversation between audiovisual and projection, aiming to trigger the imagination of audiences. He was invited to participate in NTMOFA Digital Arts Exhibition, YIRI ARTS Gallery, Nanhai Gallery and several other events. His works were presented in National Theater & Concert Hall and featured in various theatre works. He is currently a full-time projection designer based in Taipei.
4k monitor
97 x 56cm
edition 1/6
A contemplative journey across the generative landscape depicted in "la montagne". Motion and perspective brings a different sense of scale, details and space. Despite the minimal monochrome wireframe aesthetics inherited from earliest videogames, the viewer might perceive details in rocks, erosion, sand valleys, all made from a single line of code.
Light as a medium, Space as a canvas Joanie Lemercier is a French artist primarily focused on projections of light in space and its influence on our perception. Lemercier was introduced to creating art on a computer at age five by attending classes on pattern design for fabrics taught by his mother. The threads of his early education grounded his interest in physical structures: geometry, patterns, and minimalist forms. As Lemercier's work evolved, he began to play with these concrete structures through the physics and philosophy of how light can be used to manipulate perceived reality. Since 2006 Lemercier has worked with projected light, and he co founded visual label AntiVJ in 2008, with artists Yannick Jacquet, Romain Tardy and Olivier Ratsi. He worked on stage design for festivals such as Mutek (Montreal, Mexico) and worked alongside artists such as Flying Lotus (special show at the Roundhouse London), and with Portishead's Adrian Utley (as part of the cultural Olympiads, London 2012), and architectural projections all around the world. In 2010, Lemercier turned his focus on installations and gallery work, and exhibited at China Museum of Digital Art, (Beijing), Art Basel Miami and Sundance film festival 2013. In 2013, Lemercier founded a creative studio in NYC, focused on research and development of artworks and experiments that use projected light in space. Since 2015, the studio is now based in Brussels, Belgium, and ran by Juliette Bibasse.
According to Wikipedia, a "soundscape is the component of the acoustic environment that can be perceived by humans." My soundscapes are the exact opposite. It's not the sounds that make up landscapes, but the landscapes that compose sounds. Differences in color, brightness, or saturation create audiovisual scores that give augmented realities to the panoramic photographs used.
Jean-Michel Rolland is a French artist born in 1972. A long time a musician and a painter, he brings together his two passions – the sound and the image – in digital arts since 2010. Through video art works, generative art, audiovisual performances and interactive installations, he questions the temporality, a genuine fourth dimension inherent to moving image, as well as the duality between his two favorite mediums, the sound and the visual. His formal research is guided by the desire to reveal the intrinsic nature of our perceptual environment and to twist it to better give new realities to the world around us. His works, always very experimental, are a reflection of the sometimes unexpected internal world of their author and are however the object of an important diffusion abroad. Several have been rewarded for their originality, by Digital Graffiti in Miami (USA), Multimatograf (Russia), dokumentART (Germany and Poland), the University of North Carolina (USA), Festival do Minuto (Brazil), Artaq (France) and The International Video Art Review (Poland). Convinced that dematerialization of the digital arts is more a strength than a weakness, he leaves access to most of his productions on his website: http://franetjim.free.fr
The Hidden Dimension II 2013 Multimedia installation, 1:05 mins.
Solitude has become a significant issue in today's society. This is ironic when contrasted against a highly populated city, such as that of Singapore. How is it possible, that despite being surrounded by people, we are so much alone? In her recent work, Choo reflects upon this phenomenon. In The Hidden Dimension she questions the effectiveness of the relief offered by daily routines. Seven members of her family are depicted engaged in trivial acts of self-occupation. At exactly the same point in the film, in an unexpected cadence, they simultaneously break from their self-imposed Sisyphean distraction and look out into the audience and each other.
Sarah Choo Jing (b. 1990, Singapore) is known for her interdisciplinary approach to photography, video and installation. Her work depicts identifiable moments and characters within contemporary urban society suggesting a plethora of private and often solitary narratives. The artist is concerned with the gaze of the flaneur, voyeurism and the uncanny. Choo lives and works in Singapore. She recently completed her MFA at the Slade School of Art in London last summer 2015. Choo was recently shortlisted as a Finalist in the Sovereign Asian Art Prize 2017 and awarded the Perspectives 40 under 40 award. She has clinched the Gold Award in the 2016 PX3 Prix de la Photographie, Fine Art Category and been awarded First Place in the 2015 Moscow International Foto Awards. She was also awarded the ICON De Martell Cordon Bleu Photography Award and Kwek Leng Joo Prize of Excellence in Still Photography Award in 2013. The artist has since exhibited internationally at The Busan Museum of Art in Korea, the Daegu Photo Biennale in Korea, ArtParis at The Grand Palais in Paris, the START Art Fair at The Saatchi Gallery in London, Photo London 2015 at The Somerset House in London, and The Santa Fe International New Media Festival in New Mexico, USA. Her works are collected by both private individuals and public institutions; including the Singapore Art Museum, National Museum of Singapore and The Arts Club Permanent Art Collection in London.
« Assembly line » is a set of videos. The fruits are brought up one after the other on this table where the gestures, like a perfectly fit choreography, follow mechanically. To remove, we must put in the fruit and vice versa. Fingers and hands become animated, twisted and deformed to produce each new exotic fruit.
Alexandre Erre is a Paris based artist. He was born New-Caledonia where he lived for about 17 years. He studied at the École Supérieure d'Art et Design de Grenoble and then at École Nationale Supérieure d'Art de Paris-Cergy. Through the use of installations, sculptures, videos, photographs, interventions in public spaces, performances and engraving, he dissects the codes and norms to question and create memories, tales and fictions. Alexandre Erre's practice revolves around his native island, New-Caledonia, and broadly speaking around the processes of exotisation, racializing, gendering, domination or cultural hierarchy. His questioning, at the crossroads of gender, sexuality and community lean on his personal background and summons his insularity and his current diaspora status.
Learning Nature (b59e,4000,3)
Is it inevitable that only our largest organizations, with their vast data sets, will decide how we will use AI? What if instead, what if we could start small and work at the scale of the personal? David Young's "Learning Nature" uses AI (GAN) to generate images based on his own photographs, here from the winter woods of his farm in in upstate New York. With intentionally small data sets, the system, severely crippled by the standards of "normal" AI, struggles to understand. Nothing that emerges is accurate, but the work isn't asking for accuracy — it's asking for the machine to build its own unique vision of the natural world. The slow pace asks us to pause and reflect on AI and its relationship to nature.
David Young has spent his entire career at the leading edge of emerging technologies. His current work explores how beauty and aesthetic experiences can give a fresh start to how we think about new technologies. This work, which uses AI and machine learning, is a return to his roots where he began his career at the height of the 1980's AI boom. Over the course of his career he founded a cutting-edge design studio, worked for design agencies, worked in-house, and independently consulted. He has served on the board of AIGA/LA, and taught at both Art Center College of Design and Parsons at The New School. His design work has been recognized with a wide range of press and awards — including a Gold Medal from Businessweek & IDSA. David has a masters degree in visual studies from the MIT Media Lab, and a bachelors degree in computer science from UCSC. David is based in Brooklyn, NY and Los Angeles, CA.
Jolene Mok (b. 1984) was born and raised in British Hong Kong. An experimental artist, she takes video art & experimental film as her major creative platforms. Mok earned her M.F.A. in Experimental & Documentary Arts at Duke University in 2013. She has been exposed to an interdisciplinary learning and working environment since her undergraduate education in the School of Creative Media through her major in the Critical Inter-Media Laboratory (2003-2007). Since 2006, Mok's works have been shown worldwide. From 2011 onwards, she has been on itinerant taking part in artist residency programs, and she has a particular interest in undertaking artist residency programs in relatively remote locations. In 2016, Mok was named the 'Jackie Chan – Asian Cultural Foundation Fellowship' recipient. Mok takes both practical and theoretical components as interconnected aspects throughout her creative process. She is open and always ready to play with and incorporate emerging situations in her artistic pursuits for the generation of unexpected, meaningful outcomes.
Daniel Belton and Good Company Arts
AXIS - water planet
AXIS – anatomy of space – created by choreographer, film-maker and New Zealand Arts Laureate Daniel Belton. AXIS is a collaboration between Good Company Arts and renowned artists Joyce Beetuan Koh, PerMagnus Lindborg, Tanya Carlson, Jac Grenfell, Jim Murphy, and Donnine Harrison with artists of the Royal New Zealand Ballet. With the same evolutionary effect as was followed by the ancient Greeks in their search for beauty, AXIS offers a resonating, lyrical space. Dancers are seen travelling through apertures tensioned with the happening of projected light. Their choreography establishes a circuitry of luminosity – illuminating song cycles in a cosmic choreography of light to celebrate the water planet, Earth. AXIS creates a new search with the human figure in space – as expanded cinema and processed sound performance combine. This special edition draws from the original work designed for full dome 360. Good Company Arts "Water is the driving force of all nature" Leonardo da Vinci
World Premiere: Perpetual Guardian Planetarium, Otago Museum as part of ID Fashion 2017, Te Wai Pounamu, New Zealand. Asian Premiere: The Arts House, Singapore (opening Soundislands Festival 2017). Official selection: Festival de la Imagen and ISEA 2017, Manizales, Colombia; Tempo Festival, Stardome, Auckland, NZ (Matariki 2017); The Oceanic Exhibition NTU Centre for Contemporary Art Singapore 2018; ICMC, Daegu, Korea 2018 (Finalist); Auckland Live Aotea Square Installation 2019.
Co-founder and Artistic Director of Good Company Arts, Daniel was born in the Horowhenua region of New Zealand in 1970. He was a principal dancer with renowned Danish choreographer, Kim Brandstrup's Arc Dance Company in London in the 1990's. During his performance career he worked with dance theatre luminaries including Lindsay Kemp, Irek Mukhamedov, Aletta Collins, Vicente Saez, Douglas Wright and Elio Gervasi. He established Good Company Arts with Donnine Harrison in 1997. Since this time the New Zealand company has become well-known as innovators and is acclaimed internationally for producing powerful sensory arts experiences to stage, screen and gallery spaces. Touring highlights include the Prague Quadrennial, World Stage Design Festival, Cinedans, Festival Internacional de la Imagen and ISEA, Dance on Camera New York, Genius Loci Weimar International Video Mapping Festival, Romaeuropa International Festival, Zentrum Paul Klee Bern, N.O.W DanceSaar Internationales Tanzfestival, Museo de Arte Moderno de Buenos Aires, Tempo Festival Auckland, Attakkalari India Biennial, Oceanic Performance Biennial, the Arts House Singapore, Aarhus Festival Denmark, Royal New Zealand Ballet, Otago Museum, Dunedin Public Art Gallery and Te Papa Museum Wellington. Good Company Arts creates live events and installations through the fusion of multiple art forms for theatres, museums, found spaces, new media and architectural facades, cinemas, and full dome planetariums. Daniel is an accomplished trans-media creator with over 20 years experience working in and researching film, cinematography, projection mapping, motion capture, editing, fine art, sound and design. He was the recipient of Creative New Zealand's Choreographic Research Residency at Otago University 2003, visiting Artist in Residence at Massey University 2008, and Arts Council of New Zealand's Choreographic Fellow for 2010. In 2015 he was acknowledged as an Arts Foundation of New Zealand Arts Laureate.