Each year Rhizome presents Seven-on-Seven, a conference that pairs seven leading artists with seven luminary technologists, and challenges them to make something new together – be it an application, artwork, provocation, or whatever they imagine. They unveil their creations and discuss their process, at an intimate public event in NYC at the New Museum which the Niio team attended for the 2nd year in a row.
Read Rhizome's feature story on the event.
Participants included:
Jason Musson (artist, performer, writer & filmmaker) and Jonah Peretti (Founder & CEO Buzzfeed)
Olia Lialina (artist) and Mike Tyka (Co-Founder of the Google Artist and Machine Intelligence Program)
Constant Dullart (artist) and Chris Paik (Partner, Thrive Capital)
Addie Wagenknecht (artist) and Cindy Gallop (Founder, ad agency Bartle Bogle Hegarty NY, Founder IfWeRanTheWorld.com and makelovenotporn.com)
Dis (Collaborative project for artists, designers, stylists and writers) and Rachel Haot (Managing Director at 1776; formerly Chief Digital Officer of the City of New York)
Miao Ying (artist) and Mehdi Yahyatnejad (Founder Balatarin.com and co-founder NetFreedom Pioneers)
Bunny Rodgers (artist & poet) and Nozlee Samadzadeh (Engineer @ Vox Media)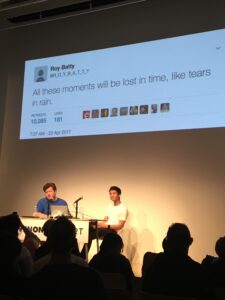 Rhizome is an art and technology organization based on the internet, and an affiliate organization of the New Museum. It supports contemporary art to create richer and more critical digital cultures, through programs online and off – including commissions, exhibitions, events, an online journal, and an archive of over 2000 born digital artworks.