Interview by Pau Waelder
Taking cues from 19th-century landscape painting, 20th-century cinema, and 21st-century planetary research, Kelly Richardson (b. 1972, Canada) crafts video installations and digital prints that offer imaginative glimpses of the future that prompt a careful consideration of the present. Her work HALO I (2021), part of a trilogy in which a pleasant summer moon becomes an unsettling reminder of the consequences of climate change, is featured in our recent artcast Anticlimactic, a selection of works from the eco-friendly NFT art community a\terHEN.
How can art address the climate emergency in a way that inspires, if not action, at least reflection?

It is not an easy subject, but it's necessary to speak to it if we have any hope of addressing it. Until this point, on this precipice, we've allowed terrifying futures to be ushered in despite the predictions of so many. Perhaps we have allowed this in part because we couldn't visualize or understand these futures from an experiential point of view. I try to offer this window of understanding through my work. I create potential futures for people to experience, to encourage reflection on current priorities and where those are leading us as a species. Hindsight is 20/20.

Art can help to connect the head and the heart. When emotions are triggered, change is possible. Most of us would react to ensure our survival if faced with an immediate threat. The response to climate change needs to mirror this. Reading a text for an exhibition that I'm in later this summer, curator Jessie Demers writes "artists and activists are both adept at [the] practice of observing the world, responding emotionally, forming a vision and expressing it through action, with no guaranteed outcome. This is how new worlds are built." Great art allows us to see and understand the world differently. Through that shift in consciousness, hope lives.

You have described some of your works as "collapsed narratives in a singular landscape" that allow viewers to draw their own conclusions. How do you decide which elements to put forward, how to play with ambiguity?

I refer to this as "calculated ambiguity". The works don't offer a completely open narrative. Rather, they offer enough information that viewers can unpack and make sense of depending on their outlook. There are always multiple ways to read them. One reading or understanding of what you're looking at might be quite terrifying in its implications, while other readings are less so. This is deliberate, to allow for viewers to personalize their experience with and understanding of the work to a point.

When thinking through ideas, image construction, colors used (some of which act as indicators, the purple sky in Embers and the Giants, for instance), sound, etc… it's always a juggling act of including enough information that leads interpretations towards this set of potential explanations. "How" I arrive at the right elements to juggle for each work is a little trickier to answer. Each work is a puzzle for me, in some sense. I consider every aspect of each work with regards to what it's doing, or needs to do to support the narratives or push the overall feeling of it towards the unnerving end, or towards the beautiful.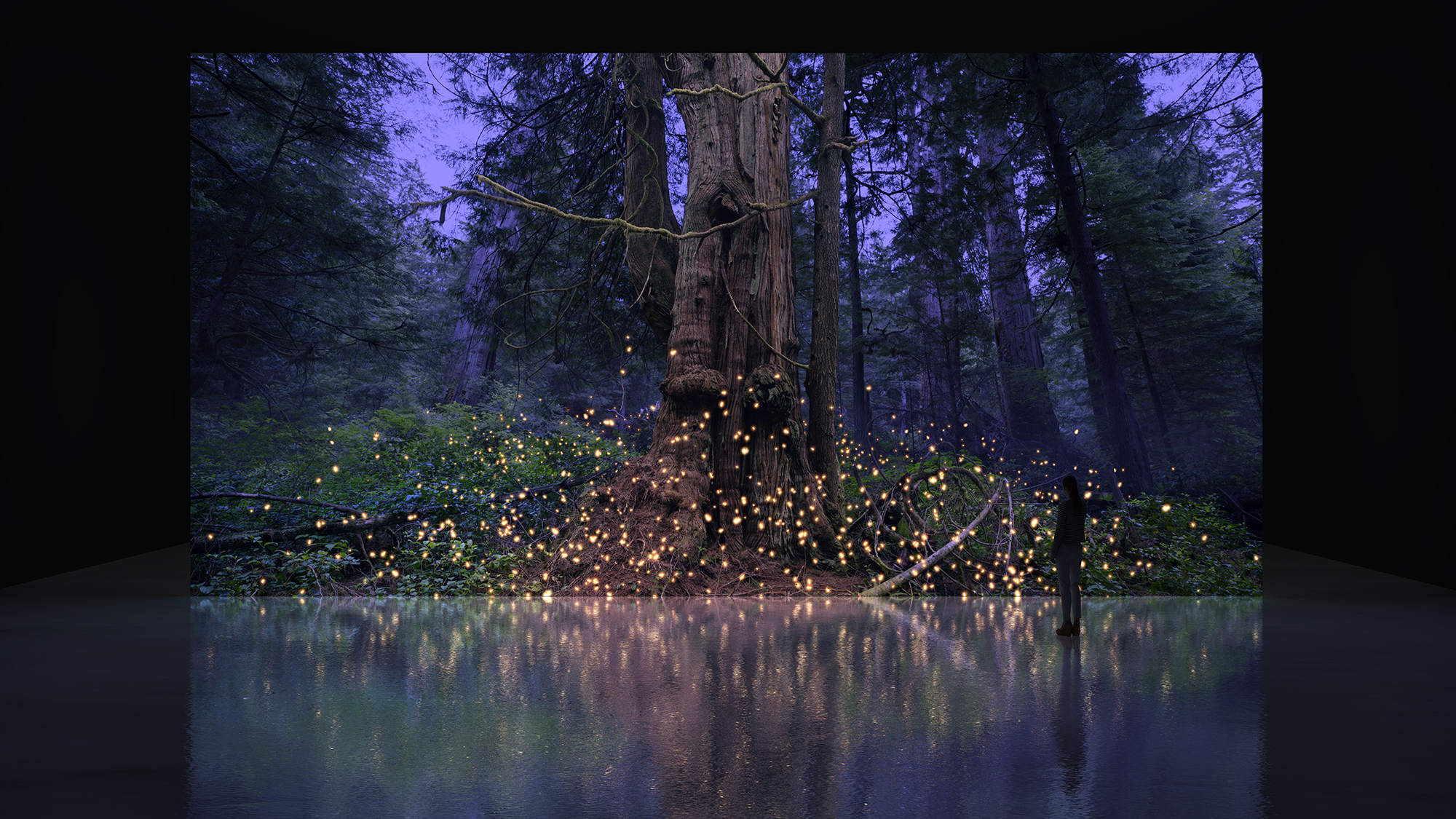 The aesthetics and ideals of Romanticism seem to inspire some of your work, in terms of the notion of beauty and the Sublime, as well as a sense of "beautiful tragedy." Which role do beauty and tragedy play in your work?

Yes, it's apocalyptic sublime for the 21st century, at the other end/side of large-scale unchecked industry, and the initial fears expressed by painters and poets in the late 18th and early 19th centuries about the potential fallout of the Industrial Revolution. I use beauty as a vehicle for the delivery of deep concerns about where we're heading as a species. Beauty invites viewers to engage with otherwise very difficult subject. Tragedy in the work is located in the truth of what we've wrought, the conditions within which we now find ourselves, and the urgent call for us to collectively face it in order to address it. After decades of scientific warnings riddled with predictions of what life might be like in the future, our path hasn't changed course. We're already experiencing extreme weather events associated with climate change. The future is now and the window to act, to avoid the worst of what will come, is quickly closing.

We find several layers of reality and fiction, of video footage and digital animation in your work. For instance, in The Great Destroyer you have not altered the original footage, while in Leviathan you add digital effects to the video, and then in Mariner 9 you create a fully digital landscape, with real elements reproduced in painstaking detail. What determines this relationship between reality and fiction?

This is such a great question, mainly because I'm still working through it myself. With The Great Destroyer, footage of the forest itself was enough. Any extra visual intervention on my end seemed unnecessary. For Leviathan, the location itself is important historically regarding our relationship to fossil fuels and its many associated environmental catastrophes. Using actual footage of the site, then, points to this truth directly. Caddo Lake, where it was filmed, is the site for the first through water oil exploration in human history. Simultaneously, the cypress forest is so stunning that I could never do it justice – particularly at that time in terms of software capability – if I attempted to recreate it in 3D. The effects, in this case, necessarily shifted viewers' focus from the stunning landscape to questioning what was happening in the water.

In other cases, as you've mentioned, creating everything in 3D was needed. For instance, in Mariner 9 I wasn't able to film on Mars, but I could set out to create a realistic experience of Mars in 3D using topographical data from the planet, which is what I set out to do. Making that work, I also rather enjoyed not having to play by elements outside of my control, such as weather or sun location. A blend of physical limitation, the realization that I could offer a realistic experience of Mars on this planet and the value of that, and on a practical level, having complete control over the landscape. How I approach each work then is largely determined by the idea itself and what I feel best serves it.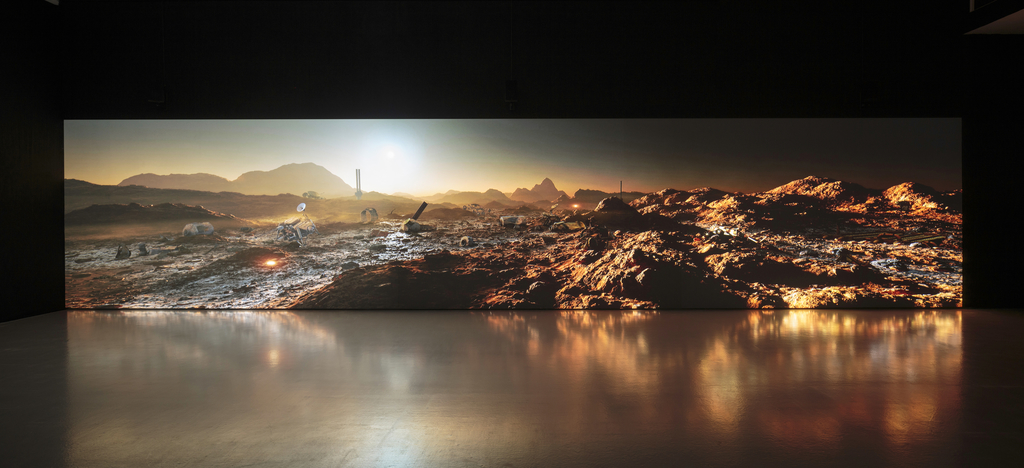 Further, much earlier in my practice, I spoke of this more than in recent years, but I've always been concerned with our understanding and by extension, our appreciation of the natural world in relation to constructed environments where truth is often difficult to locate. For decades, we've "understood" the world through screens which offer a complete disconnect from our relationship to the natural systems which sustain us. I have serious concerns that over time, we're diluting our appreciation through this rupture, further amplifying generational amnesia when we desperately need to be moving in the opposite direction. The situation globally is now so dire and yet, I'm not sure how much of the public truly understands how grave it is.

Quoting Lyn Richards in a recent review of my work, "Richardson courts irony by turning the same digital media that potently enables our detachment from the natural world into a powerful tool for examining the myth of endless growth driving humanity's misguided labors toward a catastrophic future." I deliberately communicate these concerns through the digital hoping to redirect the focus of our detached gaze towards the physical planet.

HALO is an updated version of one of your earlier works from 1998. Do you think that something has changed in the message behind this work, or the need to communicate it? Would you say that the tools you have now allowed you to create a more compelling image?

It's a sequel to CAMP which was a work which presented a rather idyllic and clichéd summer moment in Canada: heat rising from a campfire, distorting a full moon overhead with the sound of popcorn popping on the fire. In just a couple of decades, it feels like everything has changed. Campfires are now banned during the summer in British Columbia, where I now live, due to extended droughts and the threat of wildfires. Last year we experienced our 3rd worst wildfire season on record, all 3 of which occurred in the last 5 years. 1,610 fires burned 868,203 hectares across the province. Within months, the fires were followed by unprecedented flooding.

The color of the moon in HALO will be familiar to many living out here, as the smoke from these fires often creates vibrant, stunning pink, orange or red moons. The sun too reflects similar colors and can be stared at easily with the smoke offering a sufficient hazy filter. Summers now bring a mix of joy for its promised, remaining riches and genuine fear associated with what else they will bring. I now look out my windows towards a tree-covered mountain and think, "that's a lot of fuel".

The image and sound quality of CAMP certainly reflects the time that the work was produced, along with the capabilities of consumer video cameras at the time. It was also one of my earliest moving image works where the moment seemed more important to capture than its fidelity. Now that I'm able to control images with a certain level of precision, I'm equipped to create works that are increasingly freed of the limitations of technological capabilities (and their associated impact). I can create with a more painterly lens, in a sense, which has clear benefits on the quality and overall construction of the image.

Your work draws inspiration from science fiction to portray potential futures. Which subjects do you expect to address in your work? Which potential futures would you like to explore?

The situation we're in and the futures we now face result from all crises, really. They are all connected. One drives another, and so on. For us to evolve as a species in order to usher in a different future, we need to address the connections between all of these crises and what drives us towards them.

How would you describe your experience in the NFT space? Why did you choose to exhibit your work on alterHEN?

I originally entered the NFT space in opposition to the harmful emissions associated with the energy use of PoW. 30 artists, many of which are digital art pioneers, contributed to The FEN, a coordinated NFT drop on hic et nunc (the first NFT platform on PoS), initiated by Joanie Lemercier and curator Juliette Bibasse to encourage artists and collectors within the space to switch to using a significantly less harmful platform and blockchain which uses a tiny fraction of the energy of PoW. On PoS, minting an NFT requires energy use equivalent to a social media post such as a Tweet, for instance. Over the last year, I've maintained advocating for this harm reduction and will continue to for as long as I am part of this space.

Both founders of a\terHEN, Diane Drubay and Patrick Tresset were part of The FEN so we connected there. Additionally, at the time that a\terHEN was conceived, there was a frenzied pace of production within the space where artists were minting several times a week. Between the pace and the associated hype, it felt like the ability to slow down to appreciate the work itself was nonexistent. a\terHEN set out to offer a space to slow down consumption, to give work the time it often needs to be fully appreciated. This really appealed to me both from a production point of view (as I tend to labor over my work) and an experiential one. I want my work to have impact and for that, it requires my time and that of those that consider it.

Through a\terHEN and other platforms which focus on the artworks, such as TEIA and Versum, I've connected with an inspiring community of artists and collectors, many of whom are new to me. It has allowed me to expand on the reach of my work in a significant way, with new audiences, which is invaluable when I concern myself with affecting the consciousness of people (particularly, as previously mentioned, within a screen based space). Additionally, for the first time in 25+ years making moving image works, I have been able to acquire works from 250+ artists who I've admired for many years along with artists who I was previously unaware of. It's groundbreaking in that sense and it's a joy to be a part of.