Niio is proud to announce to be among the nominees for the Digital Innovation in Art Award 2019, at the Investor Allstars in London. Investor Allstars is crowned as the "Oscars" for the entrepreneurship and investor communities.
The Digital Innovation In Art Award recognises a company or individual in the art industry that has used digital technology or the internet to disrupt and innovate within their field.
We congratulate our fellow shortlisted nominees. Stay tuned via our Instagram account to find out who wins on October 3rd!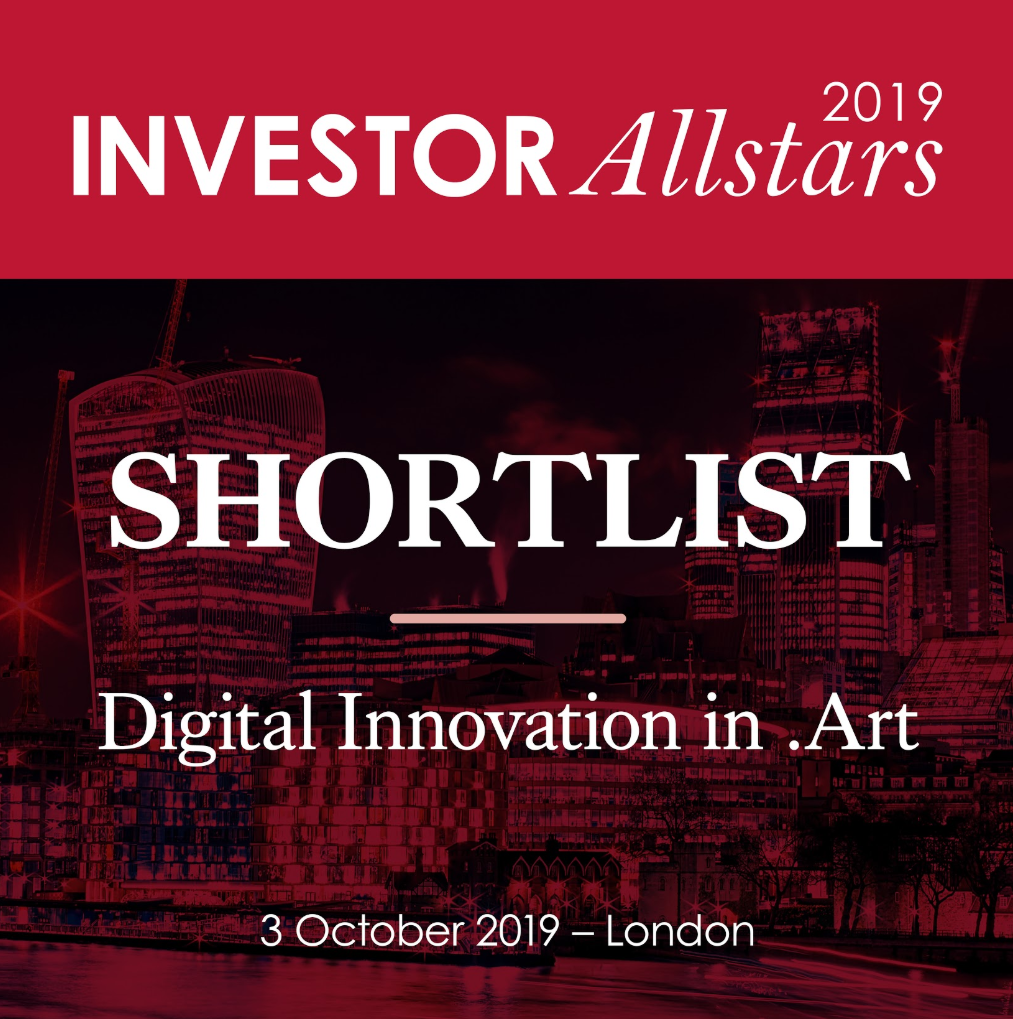 The Finalists
Steve Miller – ARTERNAL
Steve Miller is one of .ART's first adopters, showcasing his artwork in versatile mediums at www.stevemiller.art. He is also a co-founder of ARTERNAL, a CRM software which assists art galleries in efficiently consolidating multiple platforms.
Longping Derek Zhao – ARTEXB
Longping Derek Zhao founded ARTEXB inspired by the creation of Google Arts & Culture. It is a project supported by the medium of 360° panoramic VR, which aims to systematically document Chinese contemporary art exhibitions around the world.
Jason Bailey – Artnome
Artnome is the blog of Jason Bailey, who self-identifies as an "art nerd" trying to trigger an art analytics revolution by building the world's largest analytical database of known works across our most important artists.
Vivi Kallinikou – ArtRabbit Ltd
ArtRabbit is a unique guide to the contemporary art scene, connecting thousands of artspaces, exhibitions and events to artists, art professionals, collectors, students and art-interested people alike.
Eugene Bogorad – ArtWalls
Over the past twenty years Eugene has been in senior positions in computer programming, technology and big data. An amateur photographer himself, he realized that bringing online and offline together could create the right kind of synergy. ArtWalls is a platform for bringing aspiring creators and art connoisseurs together, in public spaces and online.
Justin Anthony – Artwork Archive
Artwork Archive is an innovative art business management software brand based in Denver, CO. Its cloud-based art database system offers a wide range of easy to use tools, including inventory and contact management, sales reports and expense tracking.
Rob Anders – Niio
Niio is reimagining the way humans interact with art in their everyday lives. Underpinned by a robust technology platform that powers the entire 'digital art' ecosystem with dedicated management tools, Niio has amassed a global community of 3,500 leading artists, galleries and institutions who have stored and published over 11,000 high quality digital format artworks. Niio can then 'port' this gallery-quality digital art onto any screen, anywhere – unlocking an entirely new form of consumption: streaming digital art via subscription or purchase.
Jonathan Beck – Scan the World
Jonathan Beck is the founder of an online cultural heritage project Scan the World, an initiative that archives objects of cultural significance using 3D scanning technologies. Since its inception in 2014, the platform has created over 16,000 downloadable artefacts and received over 60 million views to its page.
Mike LaTour – Soundwave Art™
Mike LaTour spent 17 years in the music industry before he became President & CEO Soundwave Art™. The app allows a unique experience of converting your own sounds into customisable works of art and jewellery.
Joel Kremer – The Kremer Museum
Ex-Googler Joel Kremer is the director of The Kremer Museum, a VR museum which hosts an Old Masters collection of about 75 works collected over the years by Joel's parents George and Ilone Kremer.
Marco Cappellini – VirtuItaly
Marco Cappellini is the founder of VirtuItaly, a project that creates edutainment experiences with art through digital technologies, both with immersive and interactive digital exhibitions.
Aretha Campbell – Bridgeman Images
Bridgeman Images works with museums, galleries, collections and artists to provide a central resource of fine art and archive footage for reproduction to creative professionals.The Bridgeman Artists' Copyright Service is a service to artists and their estates to administer their copyright and sell reproduction licenses for their work.