Nico Tone, the artists collective behind the beautiful art installation powered by Niio, explain the story of the artwork curated for Hong Kong International Airport and how it enhances travelers' experience in the terminal.
Niio Editorial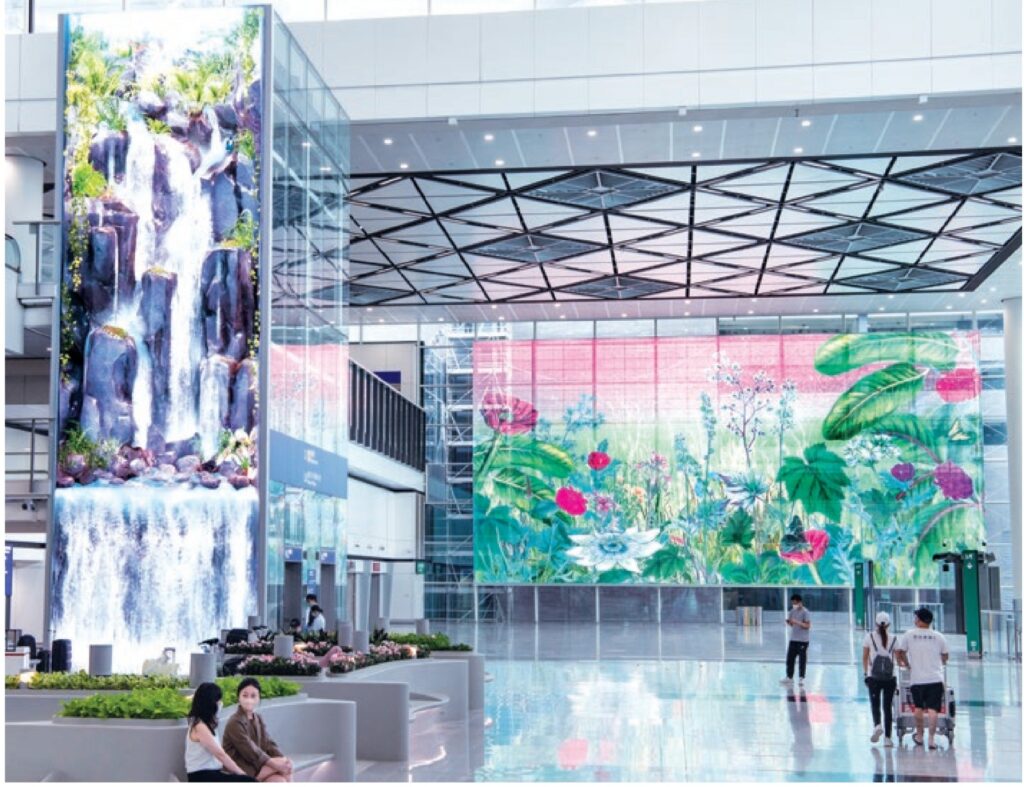 Traveling is not just going from one place to another. Every step of the trip is an experience in itself. Granted, maybe packing and getting to the airport is a bit stressful. But once you cross the security checkpoint and find that you have some time to spend before your flight takes off, it is like discovering a new city. Airports are now a long way from the gray, boxy, nondescript buildings that travelers had to cross to get to their planes. They now offer spectacular architectural spaces, a myriad of places to shop, eat, or drink, and also some quiet spots to relax, recharge, and get ready for the next part of the trip.
Some airports are known for being particularly comfortable, or for the array of services they offer. Tallinn Airport, for instance, is known for its cozy atmosphere that makes one feel at home, and in fact, it was voted by its passengers the Best Airport in Europe in 2019. Munich Airport is the second busiest airport in Germany, catering to its passengers with more than 150 stores and 50 places to eat. However, few can rival the spectacular interior spaces of Hong Kong International Airport at Chek Lap Kok.
Hong Kong International Airport, which opened in 1998, connects to 220 destinations worldwide and handled 71.5 million passengers in 2019. The airport that never sleeps has been awarded more than 80 'World's Best Airport' awards and is committed to becoming one of the world's greenest airports.
Walking through its ample corridors and immense vaulted spaces filled with light is a memorable experience in itself, but there is even more to explore as the airport buildings extend the physical space with multimedia installations. Large screens offer visitors immersive virtual environments that enhance the feeling of traveling and the excitement of reaching new destinations.
The multimedia experience began with the Waterfall Gardens, developed in collaboration with Moment Factory, to create a relaxing and beautifully magical ambiance in the terminal. The installation simulates a waterfall falling into a river with rocks. Visitors are invited to walk along the river and touch the water on the screen, feeling transported to a faraway land for a brief moment.
Next to the Waterfall Gardens, is the airport's latest innovative installation powered by Niio. A giant screen hosts the artworks Botanic Dreams, Awakening Garden and Ikebana Dreams #1 by Nico Tone, a multidisciplinary group formed by creatives from different nationalities, who work together on art and technology projects.
Nico Tone, Awakening Garden, 2019
Nico Tone's senior artist and co-founder Tal Keren explains the process behind conceiving an artwork for this spectacular setting. The artists' group's initial challenge has been to create something that draws the attention of passersby in an environment saturated with visual messages. "We are confronted daily with many images and videos," states Keren, "and nothing really infiltrates us or touches us anymore. I believe that if you take the time and look at one artwork you will start feeling and sensing its power. This is what we try to achieve."
Nico Tone, Ikebana Dreams #1, 2019
The artists' collective creates an engaging visual space that allows for a more relaxed contemplation, observing every detail in the scene and noticing subtle changes that happen every now and then. Contrary to the quick impact sought by advertising content, which catches the eye and delivers its message in a fraction of a second, these works invite the viewer to take their time. The compositions created by the artists are, accordingly, depictions of nature and peaceful landscapes that contain within them numerous small events, happening at different times, so that the image appears to be full of a life of its own.
Nature is chosen as a subject by the artists to convey a positive message that reaches out across cultures and identities: "We don't want our viewers to relate an artwork to one culture or to one language," stresses Keren, "but instead wish for every viewer to have their own take and perception of the artwork."
Nico Tone, Botanic Dreams 1, 2020
Working on the large screen of this installation has been an interesting challenge for Nico Tone. As Tal mentions: "On very large screens, every detail is seen and scrutinized. Everything needs to be meticulous and have meaning. We have to simultaneously consider both the viewer looking at the colossal screen from very close and one looking from far away. We aspire to convey the message or story of the artwork for both these types of viewers." She concludes by confessing that "it is both scary and extremely satisfying to present our works on these huge screens."