Pau Waelder & Roxanne Vardi
Emotions are complicated, much more than a set of emojis can ever convey. "By one estimate, more than 90 definitions of «emotion» were proposed over the course of the 20th century," stated psychologist Robert Pluchnik [1], the author of one of the most widely cited theories of basic emotions. In 1958, Pluchnik suggested a structure based on eight basic bipolar emotions: joy versus sorrow, anger versus fear, acceptance versus disgust and surprise versus expectancy. Later on, in 1980, he developed this classification further into a more complex "wheel of emotions," analogous to a color wheel, in which primary emotions were placed forming a circle, with opposites 180 degrees apart and other emotions placed between them, as mixtures of the primary emotions in the same manner that primary colors can be mixed to obtain secondary colors.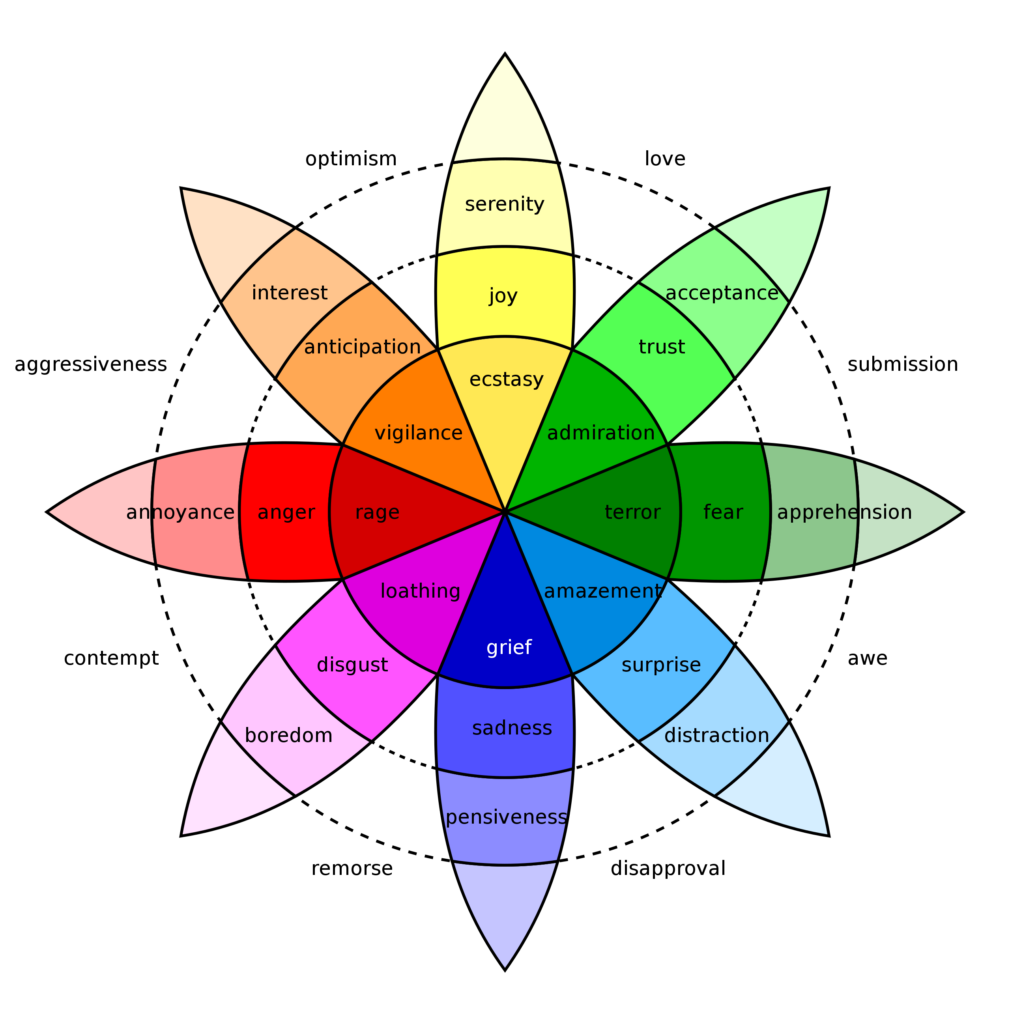 Inspired by Pluchnik's diagram, in early August 2022 visual artists Asaf and Tomer Hanuka created Moodies, a collection of 7,401 artworks generated from a set of 32 original illustrations depicting human emotions in the form of a portrait of a fictional character whose face is a big hole (which the artists call "the cave"), filled and surrounded by different elements that build a visual metaphor of each emotional state. Notably, the brothers Hanuka have updated some of the terms in Pluchnik's diagram, adapting it to the type of emotions that are prevalent in a society where human interactions are mediated by social media and messaging apps.
For instance, the term "annoyance" in Pluchnik's wheel becomes FOMO (Fear Of Missing Out), a particular kind of annoyance we all experience in the fast-paced "present" built by mass media. Similarly, "aggressiveness" is described as "bullish," an attitude that is at once celebrated by those who identify with toxic masculinity and frowned upon by those who decry a behavior that preys on the weak and can have fatal consequences (such as cyberbullying). Other changes may seem a matter of semantics, but they are nonetheless significant. Take "serenity", which becomes "nostalgia," a feeling particularly connected to Asaf's and Tomer's generation, whose childhood was deeply influenced by the culture of the 1980s, which has since been constantly repackaged a resold to them as adults, cashing in on their longing for the past. Additionally, "admiration" becomes "proud," signaling the growing importance of the self in our highly individualistic society.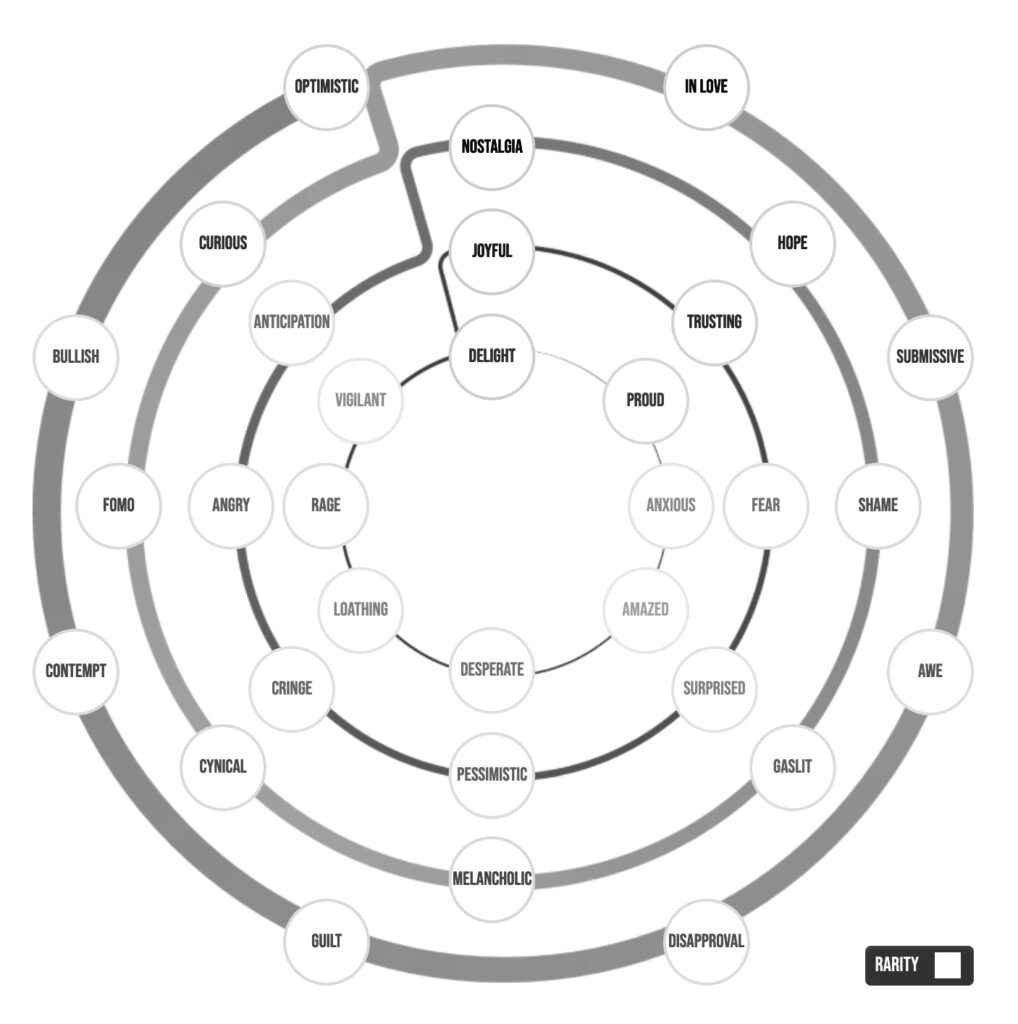 These subtle changes illustrate the attention that both artists have put into creating a depiction of human emotions that speaks to the specific context of social media and the NFT art scene. Moodies stems from the Hanuka brothers' desire to re-imagine the profile picture or selfie as it is used in today's world; the image that has come to define us in the social world. Asaf and Tomer therefore describe the Moodies as 'anti-emojis' and aim to re-introduce to our social lives conversations about emotions and the inner-self rather than just creating pictures of perfect lives that are usually experienced as cover-ups.
'FOMO', for example, portrays an eyeball with a knife poking down its middle where the face is supposed to be, in the background we see a broken down backyard that looks out on Hollywood Hills. The person in the image has a bad hairdo with bald spots on the top of his scalp, and the grass that makes up his body and the background is far from being green. 'Nostalgia' depicts an old tape recorder in place of a face, the figure wears a Duran Duran 80's hairdo and a jean jacket, and the background is a retro gas station.
Pluchnik's diagram not only provided inspiration but also the blueprint for an algorithmic creation based on combining the elements in each of the 32 original drawings. These illustrations, termed "Pure Soul Moodies," are each composed of 6 elements: Aura (head), Body (clothing), Cave (face), Environment (backdrop), and Skin (color or texture of the skin). These elements are then associated with the emotion that the Pure Soul represents, thus creating several thousands of mixed emotions artworks, in which each part of the drawing corresponds to an emotion. The compositions resulting from this process, alongside the original 32 Pure Souls, constitute the Moodies NFT collection, each artwork being minted as a unique piece.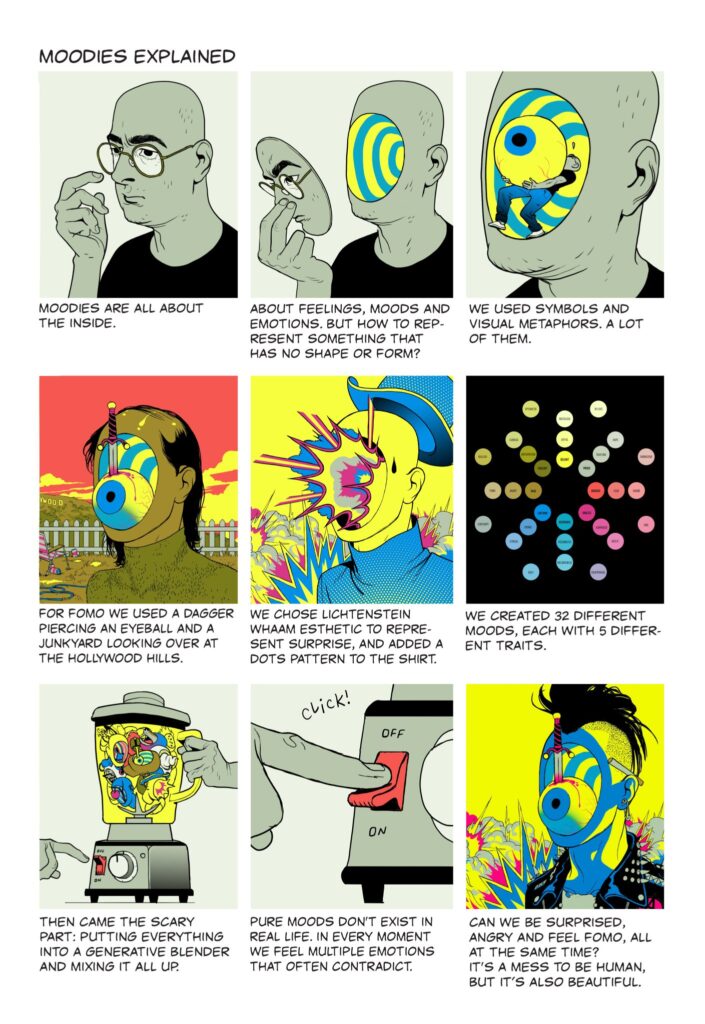 A meaningful PFP project
Moodies belong to a type of NFT projects known as PFP, which stands for profile picture: these are illustrations intended to be used by their collectors as profile pictures on social media. Increasingly popular thanks to the success of early projects such as Larva Lab's CryptoPunks or the ubiquitous Bored Ape Yacht Club, that have inspired an endless array of copycats, PFP NFTs combine the uniqueness of the artwork with the desire to create a personal identity on social networks that is at the same time distinctly individualistic yet belonging to a group. However, Moodies stands out for introducing a narrative and an underlying concept that is lacking everywhere else. Award-winning illustrators and storytellers, Asaf and Tomer Hanuka have succeeded in creating a series of artworks that respond to the driving aesthetics of the NFT space but also introduce a reflection on the need to express one's personality and emotions. As Pluchnik stated:
"Although personality is usually taught in universities as if it had little or nothing to do with emotions, words such as gloomy, resentful, anxious and calm can describe personality traits as well as emotional states. An individual can feel depressed, or be a depressed person, feel nervous or be a nervous person. […] Thus personality traits may be conceptualized as being derived from mixtures of emotions."
In this sense, the Moodies aptly connect the depiction of a combination of emotions with the construction of one's personality, and more specifically, one's persona in a social environment like those provided by Instagram, Twitter, TikTok, and so forth. The chaotic combination of elements in a surreal and somehow uneasy relationship becomes a perfect illustration of Pluchnik's description of emotions as unstable processes:
"Emotions are not simply linear events, but rather are feedback processes. The function of emotion is to restore the individual to a state of equilibrium when unexpected or unusual events create disequilibrium."
The artists have therefore succeeded in creating a series of artworks that reflect on our digital identity and our need to belong to a group, which nowadays can be made of a large number of geographically distant and anonymous people, but also invite expressing our inner self in a playful way: "We wanted to create a group of people that care about feelings," state Asaf and Tomer. "Instagram is about looking good and feeling happy: this is manipulation, forcing you aggressively to be happy. For us this felt fake, and we wanted to turn this inside out. Inside you have darkness, pain, love, we are made up of a cocktail of good and bad."
Into the Moodieverse
Moodies goes beyond the depiction of mixed emotions in a set of algorithmically combined portraits. The artists are currently developing a larger story that builds a whole world around the initial idea of bringing the wheel of emotions to life. Central to this story is a character known as The Great Moodie, "a brilliant physician turned mentalist who modeled the principles of electromagnetics to uncover the mysteries of the unconscious mind." This enigmatic character, which according to the story created a machine capable of tapping into the collective unconscious, known as the Soul-Ray, is said to have disappeared and will soon resurface in the Metaverse.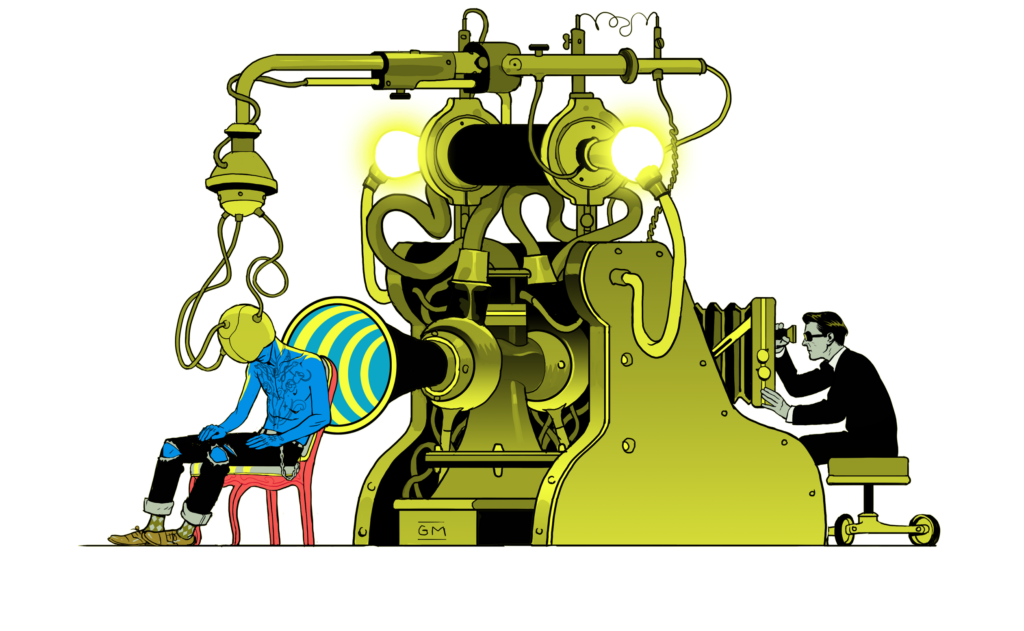 The Hanuka brothers consider this character essential to the plot that unites the whole Moodies project and will lead its continuation beyond the initial launch of the NFT series, which quickly sold out and is now only available in the secondary market.
"The relationship between the great Moodie and the Moodies is that first we wanted to create generative art, something we wanted to control mixed with random decisions, and then we needed to define a concept to justify this loss of control, which brought us to creating mixed emotions. The Great Moodie is us trying to visualize feelings. There is this visual metaphor: The Great Moodie is what it means to be an artist."
Just like The Great Moodie, the Hanuka brothers have big plans for this project which they keep under wraps for the moment, but that will unfold in a fully developed narrative and a growing community experience for their NFT holders. The project has already expanded beyond the blockchain to create experiences with people in the real world: the Moodies have been touring the world, making appearances in Los Angeles and at NFT NYC 2022. Their latest stop is Tel Aviv, where the Hanuka brothers have displayed a selection of the collection at SAGA, a cave-shaped gallery in Jaffa.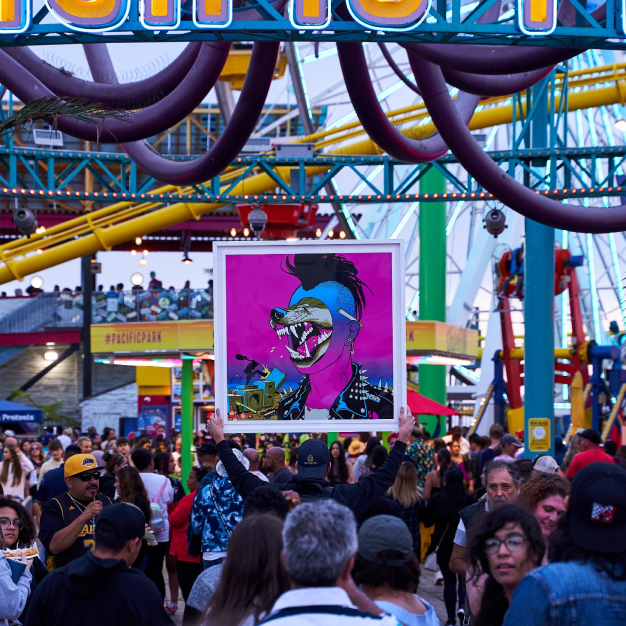 ---
Asaf Hanuka is based in Tel Aviv and serves as the Head of Department at Shenkar College of Engineering, Design and Art. He is also an illustrator and comic book artist. He has won multiple international awards including the Eisner for best US edition of international material for The Realist, an autobiographical weekly comic, and recently published I'm Still Alive with writer Roberto Saviano (Gomorrah).
Tomer Hanuka is based in New York and has most recently worked in visual development with Netflix and Sony for live-action and animated projects. He is an illustrator and cartoonist who regularly contributes to magazines such as The New Yorker, Time Magazine, The New York Times, and Rolling Stone. Tomer has exhibited at international museums such as The British Design Museum and has won multiple industry awards including Gold medals from The Society of Illustrators and The Society of Publication Designers.
They have also co-created, with the collaboration of writer Boaz Lavie, The Divine, a graphic novel which made The New York Times bestseller list, was nominated for a Hugo, and won the International Manga Award. Publisher's Weekly described it as "Heady, hellacious, and phantasmagoric". In addition, the brothers Hanuka have contributed a story to the Attack on Titan anthology, published by Kodansha Comics.
[1] Robert Plutchnik. The nature of emotions. American Scientist ; Research Triangle Park Tome 89, N.º 4, (Jul/Aug 2001): 344-350.