Roxanne Vardi and Pau Waelder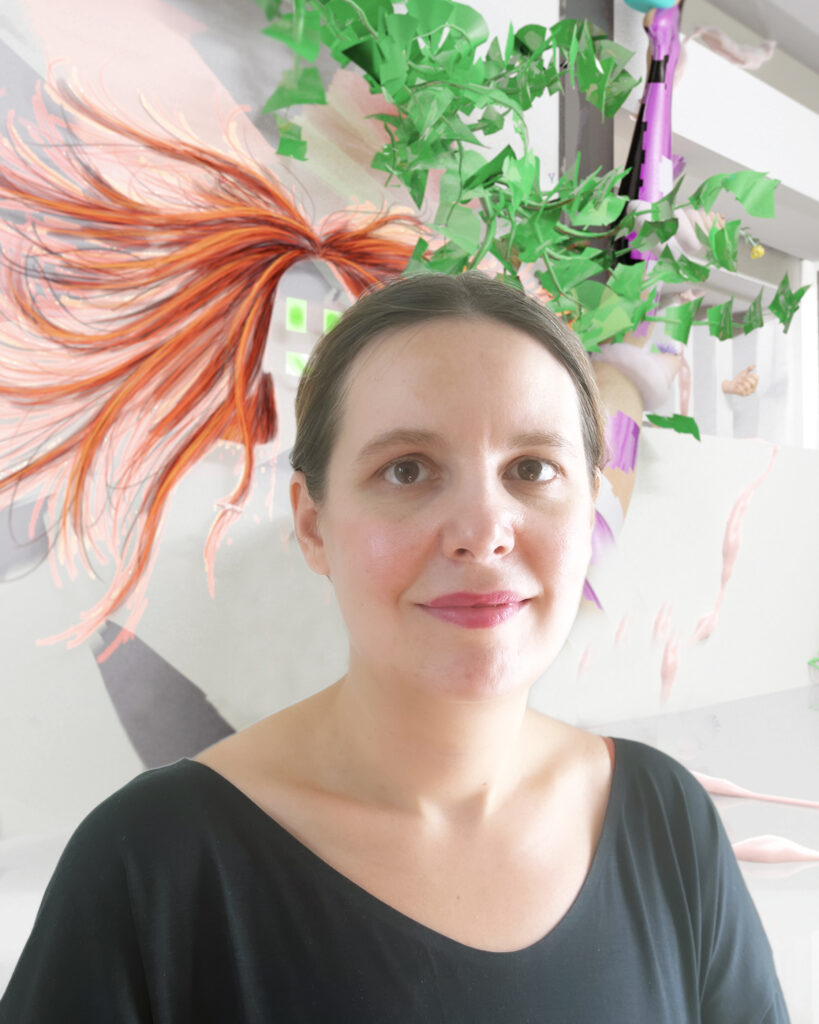 Katie Torn's work explores the female figure in a world shaped by digital technology and obsession with self-image boosted by social media and consumer culture. She uses 3D graphics and video to build assemblages of natural and artificial elements that question the boundaries between beauty and decay, body and prosthesis, organic and synthetic, and between a person's own self and the image she creates of herself.
In the series Dream Flower, composed of two artworks commissioned by Niio, the artist draws inspiration from Victorian-era botanical drawings and the work of Mary Blair in the animated fantasy film Alice in Wonderland, produced by Walt Disney in 1951, to create the portraits of two exotic flowers with female-like features. In this interview, she elaborates on the connections between these characters and the ways women have had their bodies shaped by aesthetic stereotypes, as well as the contradictory beauty of decaying matter.
Most of your artworks, including Dream Flower I and Dream Flower II, exhibit female figures. Could you please elaborate on your interest and explorations of representing women through your works?
Like many digital artists my background is in painting. I studied classical figure painting as a teenager and spent many hours in museums studying the "Old Masters", male painters whose subject was often the female form. I was taught that light falls on the female body the same way light falls on a still life of a bowl of fruit. How I create my animations and digital paintings is informed by my study of the history of painting. I compose my works much like a 20th century painter who is responding to classical painting, starting with a figure as a central subject in relation to a picture plane and then fragmenting the form to create an abstraction. In my work I use virtual space and digital tools to break down the figure. I wouldn't say the figures in my work are women. They are creatures that have attributes that are female-like, but they also have attributes of plants, animals and inanimate objects.
Katie Torn, Dream Flower I, 2022.
In your artworks we find references to Victorian drawings, as well as dolls and children's toys. Which connections would you draw between that time and our present consumer culture?
My animations Dream Flower I and Dream Flower II were specifically inspired by Victorian botanical drawings of flower arrangements. I came across a few prints in my Great-grandmother's apartment and noticed how they were composed almost like portraits of flowers with a large bulb situated in the middle of the arrangement like a human head. Many of the toys I use are virtual models either scavenged online or physical objects found at thrift stores and not tied to any specific era. What I do find interesting from the Victorian era is the way the fashion from the time distorted the female body almost like a physical filter. At that time corsets and bustles were used to sculpt the female form to fit an imagined ideal, in present consumer culture we use photoshop, filters and now AI to create imagined versions of ourselves.
In your work, there is an interplay between the apparent desire to please and the eerie quality of the scene. Would you relate this to our exposure to mass media and advertising?
In my work I like to use the tools of advertising such as slick 3D renderings, photoshop and liquid simulations to entice viewers and pull them into my world. The story I am telling is about a human trying to adapt to an environment that is in decay where the physical and virtual world are colliding and creating a hybrid like a newborn cyborg trying to function.
Can we interpret in these works a reference to the submissive roles given to women in conservative societies, from the Victorian era to Post-War America and up to the present?
I wouldn't say that, no. The female-like creatures in my work are like goddesses. They are in control of their own ecosystems.
Katie Torn, Dream Flower II, 2022.
You have mentioned that in some of your artworks there is a strong influence of the work of Mary Blair. What inspiration do you take from Blair's work and life?
I love Mary Blair's unexpected color combinations on the work she did for Disney in the 1950's. Specifically in Alice in Wonderland and Cinderella, her art direction added a moody quality and sophistication to the animation. Since I was making creatures that were botanical for Dream Flower I and Dream Flower II I decided to rewatch the flower scene in Alice in Wonderland for inspiration.
An interesting concept in your work is the use of waste, both by incorporating disused objects, elements that are constantly dripping or falling apart, and by depicting wastelands. What do you find interesting in this concept?
Destruction and decay is fighting but it can also be beautiful on a purely aesthetic level. Like watching a forest fire from your computer screen. It is awful and heart breaking but can be watched slightly removed like an explosion in an action film. My work stems from the ironies we see in industrial disasters in nature like the most beautiful pink sunset that is caused by pollution or being awestruck by the colorful beauty in an oil spill.
Lately, you have been involved in the NFT space. Can you please share some of your insights of this new context of creation, dissemination, and commercialization of digital artworks?
I have been making short format looping video animations for years and have always struggled to find a place for them in the art and film world. They aren't long enough to play at a festival and the lack of physicality made it impossible to really sell them at art fairs. NFTs legitimized the format. Physical objects like painting and sculpture have always been tied to money. It makes sense that digital currency would have its own digital art version. It's been great to see digital artists who've careers I've followed for years finally being able to make a living off their works.