Roxanne Vardi and Pau Waelder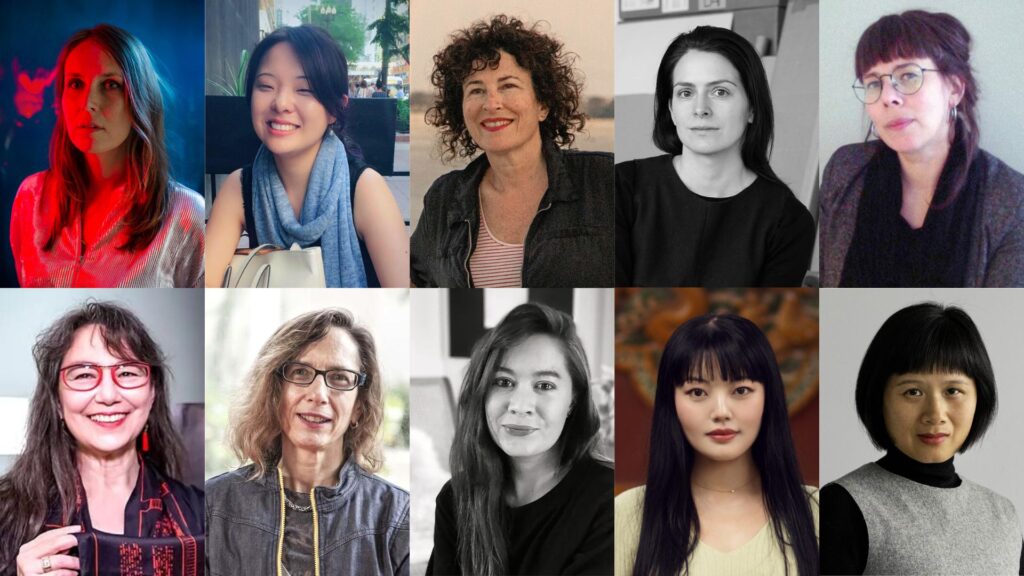 It is a well-known fact, although not properly acknowledged, that over the course of history women artists have been underrepresented in the art world, and in general have been undervalued and underpaid at auction houses, galleries, and museums. As the art historian Katy Hessel, author of the celebrated book The Story of Art Without Men, points out: "it's actually down to who has been able to tell the story of art history." Women artists have been routinely erased from art history, or included in relation to male artists, their talent minimized as they were portrayed merely as lovers or muses. In the art market, women artists have not fared better. Traditionally, art galleries have represented far more white men than any other group combined, and as recent reports indicate, the situation hasn't improved: the Burns-Halperin Report on equity and representation in US museums and the art market, presented in December 2022, indicates that auction sales of works by women artists represent only 3,3% of total sales worldwide, and that only 11% of acquisitions and 14,9% of exhibitions in US museums feature artworks created by women.
The introduction of the digital arts and the emergence of the new media art scene have given women artists the opportunity to become early adopters both of photography and of alternate digital technologies such as VR as these novel mediums also allowed for political and artistic provocation of the accepted norms. Today in general there is also greater awareness towards this unequal tendency, and so different organizations focus on balancing out the different groups of artists which they represent. At Niio we have made it our mission to focus on presenting and promoting the works of women artists whether through the content distributed on our apps or in our editorial section. In 2022, the gender balance of our artist solo shows amounted to a total of close to 60% by women artists. This month, we are honored to showcase the artworks and art practices created by the women artists, and to present this brief survey among ten outstanding artists who have generously answered our questions.
Would you say that the digital art community behaves differently than the contemporary art world in terms of gender balance and visibility of women artists?
Alexandra Crouwers: not really – although my personal field of view in the 'digital space' is taken up by a generally much, much more diverse constellation of artists than the 'traditional' contemporary art scene I'm embedded in. Likely, the global accessibility and distribution of digital art plays a role. I do suspect museums and other art institutions working with digital media are, perhaps because of the reason above, a bit more aware of adding more women artists in exhibitions compared to the 'traditional' art world.
Claudia Larcher: I don't have numbers for that, but no, I think that the visibility of women in the art world in general is still unbalanced, be it in the art world or digital art. More attention is now being paid to the issue, but the big solo shows are almost always given to the men.
Claudia Hart: Yes, although strides have been made, I would have to say that the contemporary art world is still way out ahead of the digital space. The engine running digital is innovation culture. I would even go so far as to say that digital art culture functions more as beta testers for new products. It's a culture of next new things, so it suffers from extreme ageism. The lowest ranked players in the digital art world are older women – not news not now, not glamorous. It's a cute young world.
Dagmar Schürrer: Talking from my own perspective I feel that female identifying artists are quite present in the digital art community. I am based in Berlin, and I am very lucky to be surrounded by a network of strong women creating and researching in the digital art scene. Digital and new media is still kind of uncoupled from the classical art market and rather conceptually driven. It often tackles issues that are closely linked to female politics – like embodiment, social hierarchies, identity, or bias of new technologies. For example, the scene working with XR technologies is very experimental and constantly developing, and is open for fresh and unusual perspectives, which might be resonating with a female experience of a changing society. Nevertheless, it is a sad fact that women in the cultural sector are still outrageously underpaid. Statistics of the German Künstlersozialkasse (artists' social security fund) show that in 2022 female artists earned an average of 24% less than their male colleagues, the Gender Pay Gap is therefore significantly above the German national average!
Tamiko Thiel: Until recently, fame in the media art world was driven more by academic voices and the few institutions that showed media art, because the art market was not interested in media art at all. This was primarily Ars Electronica due to its prestigious Golden Nica award, the ZKM because it was the primary institution with an archive and collection of media art, the festivals Transmediale and ISEA and the art gallery at SIGGRAPH.
It was always my impression that these media art institutions however tended to focus very heavily on hardware technology, "boy toys" and a very male view of what is interesting in media art, rather than taking a wider view of the value of media art. I personally was told in a private conversation by a (male) member of the Ars jury, perhaps a decade after I had submitted my VR projection installation Beyond Manzanar (2000, with Zara Houshmand) to the Interactive Art category at Ars, that the others on the jury insisted it was not innovative because it only used a simple joystick as an input device. That is to say they focused exclusively on the hardware, without considering the complex interactive narrative of 13 scenes interweaving the historical Japanese American incarceration in WW2 and similar threats to intern Iranian Americans during the Iranian Hostage Crisis in 1979-1980, and how we had constructed an interactive structure in which the user's agency led them to be complicit in their own incarceration.
In 2016 Heather Dewey-Hagborg and Addie Wagenknecht started the "Kiss My Ars" hashtag after noticing that in the 37 year history of Ars Electronica, 9 out of 10 Golden Nicas had been awarded to men, putting a hard number on my more vague impression of an unconscious gender bias in values.
In 2012 the new director of the Transmediale, Kristoffer Gansing, shut me down when I responded to panelist Kathy Rae Huffman's invitation to talk about my AR artwork during what was billed as "open conversation about video art and net culture, media collectives and counter-publics". (See this webpage for a detailed description and audio recording). This was all the more odd because the festival's theme "in/compatible" explicitly celebrated 25 years of art interventions and proclaimed in Gansing's curatorial statement that: "Contrary to the fear of the incompatible, so prevalent in the age of cloud-computing, the festival raises the question of what happens when incompatibility is brought to the fore rather than hidden away in the dark underbelly of digital culture?" Kathy Rae and I of course asked ourselves, if a male curator on the panel had called on a male artist to describe their work, would Gansing have shut them down, as he did to us? It was painful for us as well that no one in the audience, not even the several famous feminist artists present, said anything at all during these encounters. Gansing had just taken over Berlin's most prestigious media art venue, and I assume no one wanted to get on his bad side.
Chun Hua Catherine Dong: I think the digital art community and the contemporary art world are very similar in terms of gender balance. Gender imbalance exists within the digital art community, especially in technical and coding writing. Women also are underrepresented in the field of game development and software engineering.
Do you work with code-based art? If so, do you write the code, or work with collaborators? What is your experience with the community of coders and engineers?
Sasha Stiles: I'm a lifelong poet who's always been very interested in science and technology. Though I don't have a computer science or coding background, I've been writing with AI-powered large language models since 2018, and have learned basic coding to fine-tune text generators and experiment with generative visual poetics. I've also had a hands-on role for many years now as poetry mentor to the AI android BINA48, built by Hanson Robotics and the Terasem Foundation. I've frequently been in the minority at meetings and conferences, but I've also found a lot of support for my work in places where I didn't expect to.
Alexandra Crouwers: I AM A SUPERUSER! We're being overlooked, but that's another story: there's such a focus on code and generative abstraction at the moment, people forget most of us use those techniques too, but then as part of more encompassing works (this does not answer your question at all, haha).
Marina Zurkow: I work with coders, usually as an equal collaboration (not with teams). In my intimate work world, at present, I have an even split between male and female identified technologist collaborators.
Claudia Larcher: I have limited skills in coding but try to do everything by myself, as I had some bad experiences with male coders. Which was also a kind of empowerment. Actually I don't know any female identifying coders, which is a pity. The coding community as I know it, is a male-only community. Hopefully it will change in the near future.
Claudia Hart: I've just produced my first Art Blocks. I was part of a group of women invited to develop a project. I went to a meeting for the newbies, and I was the only woman present, The rest were guy coders. I've also collaborated with my friend Andrew Blanton, a cute young coder, because I can't do it for myself. Not sure I would ever do this again.
Dagmar Schürrer: I am working with XR technologies in my own artistic practice as well as a project assistant at the research group INKA at the HTW Berlin – University of Applied Sciences. INKA is an interdisciplinary group of computer scientists and cultural workers like me, producing and teaching XR projects in the cultural field at the Institute for Culture and Computer Science. In the group there are slightly more female developers, but I would say that is rather unusual and a conscious decision to support women in the STEM fields (science, technology, engineering and mathematics), which is of course great! This is not reflected in most of those degree programs, where women are significantly underrepresented, so there is still a lot to do to make these fields more attractive for women. This is also similar in the freelance sector; I have the impression that here female developers are very rare.
Tamiko Thiel: My VRML artworks (Beyond Manzanar, The Travels of Mariko Horo, Virtuelle Mauer/ReConstructing the Wall) are all code based, and I wrote all the code myself. I have had a lot of support and no problems from the community of coders and engineers in terms of gender inequalities. Since 2018 my husband, the software developer Peter Graf, collaborates with me on some but not all artworks. Since he is a professional coder, he can code much faster than I!
In your experience, has the NFT market benefited gender equality in any way? Do women artists get better chances at selling their work?
Alexandra Crouwers: Not sure yet. Although in the very conservative contemporary art context I'm geographically in, I'd say I had at least a couple of disadvantages: being a women artist and working with digital media. It often felt the combination was just too much for people to handle. For me, the NFT space has connected my practice to a whole network of nodes of amazing fellow women artists, with similar experiences. On the other hand: I've never sold so much work in my artist life before, so purely based on that I'd say 'yes'.
Snow Yunxue Fu: I do think the NFT market has opened more opportunities for women artists and all artists in general, especially at the earlier stage of its developments and expansion. However, as the NFT market has a tendency to follow the historical art market, there are still many inequalities. It is quite important to have awareness for all parties involved and make efforts to give more support to women artists.
Marina Zurkow: Among niche digital art worlds, perhaps – but not at the high-price & high-profile level. Those "spots" are consistently and disproportionately going to men.
Claudia Larcher: I read that female artists are doing better in the NFT world than in the global art world but parity is still far away. I think that people see an investment when buying NFTs, and male artists still achieve higher re-sales.
Tamiko Thiel: The NFT market has a specific aesthetic that sells well, and I consider that aesthetic to be a very male gaze shaped by fantasy/science fiction/video games. Perhaps women artists who hide their gender do better, but as a woman artist who uses her real name, I think it helps me for intermediaries to call attention to my work and to tell potential collectors that my work is valuable. THANK YOU FOR HELPING! 🙂
Chun Hua Catherine Dong: This is a good question. I don't get involved much at the NFT at this moment so I cannot tell whether the NFT market benefits more women artists. But the NFT market definitely is easier to enter while the traditional market requires years to build up one's reputation.
What is your opinion about female-led NFT projects? Can you mention some projects that you find interesting?
Sasha Stiles: I'm proud to be part of theVERSEverse, a women-led poetry gallery that seeks to empower writers by bringing poets into the art world. Co-founded by Kalen Iwamoto, Ana Maria Caballero and myself, with advisor Gisel Florez and community manager Elisabeth Sweet, theVERSEverse is trying to do something that has never really existed elsewhere, on or offline. I'm constantly astounded by the vision and tireless work ethic of women in web3 and adjacent spaces: Sofia Garcia, Jess Conaster, Micol Ap of Vertical Crypto Art, Danielle King, Diane Drubay, Valerie Whitacre, Ariel Hudes, Raina Mehler, Nicole Sales Giles, Lydia Chen, Mika Bar-On Nesher, Elena Zavalev, Eleanora Brizi, Fanny Lakoubay, to name just a few. I love the FEMGEN initiative from VCA and Right Click Save, and the Unsigned project by Operator and Anika Meier, and I'm represented by such women-owned galleries as Annka Kultys Gallery in London and Galerie Brigitte Schenk in Cologne.
Marina Zurkow: Christiane Paul's curated exhibition Chain Reaction on Feral File is a good example of highly rigorous, thoughtful NFT projects that are female-led or in collaboration. I think very highly of the works of Stephanie Dinkins, Amelia Winger-Bearskin, Sara Ludy, and the McCoys because their work has not only deep logic but they are concerned with what the blockchain can DO; it's not just another white wall in a white cube gallery.
Claudia Larcher: I appreciate the work of the Austrian artist LIA, who is a pioneer of software and net art. I think that with producing NFTs she was really compensated for her artistic work in an appropriate monetary way.
Dagmar Schürrer: I want to mention the project Unsigned by Operator and Anika Meier. It is a collection of 100 signatures from women and non-binary artists to highlight the fact that a female signature on an artwork can devalue it. Turning the signatures themselves into artworks is a very clever and strong gesture, and I love the focused and minimal realization, both conceptually and aesthetically. It is positively simple, to the point and potentially iconic.
Tamiko Thiel: I find Auriea Harvey's and Nettrice Gaskin's work simply stunning, beautiful and meaningful. They create beautiful works of art like nothing I have ever seen before, and bring together incredible depths of art history and cultural history together from a very different viewpoint as the previous several thousands of years of art. All hail! I am delighted that ixshells' work is valued so highly, but such purely geometric abstractions are personally not so interesting for me.
Chun Hua Catherine Dong: I appreciate projects that are not made specifically for any kind of markets, but rather for the artists themselves or for the sake of art itself. Maybe these kinds of projects will have the potential to go both into the traditional and the NFT markets eventually, but the idea of "art made for sale" doesn't sound right for me. Artists such as Claudia Hart, Carla Gannis, and Frank Wang Yefeng are very interesting.
In the 1980's the feminist art movement began working mainly with photography and the newly available technological tools of the time. Do you feel that with the introduction of video art this even more so allowed artists to question older social models?
Sasha Stiles: Both my practice and personal life are implicitly feminist in that I embody taboo concepts of womanhood, from engaging in male-dominated fields to eschewing many of the social and domestic expectations that are prescribed to women. So when a large language model fine-tuned on my own work, developed to write like me, expresses misogyny and disturbing stereotypes, for example, it's powerful. Creative AI as a new medium demands that we go beyond questioning older social systems to infiltrating them, building ourselves into them.
Alexandra Crouwers: Yes, Pipilotti Rist for me was the one who opened artistic doors by unapologetically using the idea of music videos as an art form, and showing how projections including audio can transform a whole space. This, again, is a very personal example, of course, but, to me, Rist provided a role model in an art education that for 95% was taken up by men.
Marina Zurkow: The number of brilliant, inspiring feminist video artists is staggering. Please don't forget pioneers Adrian Piper, Yoko Ono, Howardena Pindell, Shigeko Kubota, and the following waves of the likes of Laura Parnes, Elisabeth Subrin, Mika Rottenberg, tackling very different aspects of life through a feminist lens.
Claudia Larcher: I believe that video as a medium was new at that time and not yet occupied by men, like painting or sculpture. There was this window of opportunity for many female artists.
Claudia Hart: I am not sure, there have always been women painters, but they were written out of history. I've been working with 3d animation and VR since '96. I developed a program at the School of the Art Institute of Chicago called Experimental 3D, and my young women students have been institutionalized and awarded. I actually have never had an institutional exhibit, neither group or solo, nor have gotten grants or any kind of award of status. So case in point.
Dagmar Schürrer: I have the feeling there is a tendency, when new tools or technologies become available, that female and non-binary artists are fast to integrate those in their own artistic practice, before the methodologies enter the mainstream. It may offer a certain freedom and field of experimentation, without the pressure of capitalist art markets, and therefore a progressive opportunity to negotiate and reflect the topics of underrepresented groups.
Tamiko Thiel: Yes, at the beginning of a new medium there is much more room for experimentation, when the market is not established yet and therefore artists can experiment without the pressure to think about the sales value of the work. Initially there is the problem of access to technology – during which women also usually have more difficulty. Then there is a short interval in which anyone can access the technology because it has become commercial enough to be widely available. This is the time in which most innovation occurs. Then when the art market picks up a medium, its values impact directly on the work that is made, as artists try to live from their work.
Chun Hua Catherine Dong: Using new media or incorporating technology in artwork has definitely changed the ways of how to make art. Video art offered artists the ability to create time-based works that could incorporate performance and documentation. The introduction of video art has provided a powerful tool for feminist artists to express their ideas related to gender and identity, and to create works that reflect their own experiences and perspectives.

Yuge Zhou: Video art introduces the time element into social critique. In some way, video art has a huge landscape to mine and to reference with cinema and television and the internet videoscape. With a growing number of women behind the camera and in charge of the means of productions – what they shoot, how they shoot are opening up. There is a female sensibility behind the lens. Even in subtle ways, this changes what the viewers see. Nowadays, both men and women are going into the technological fields like editing and cinematography, and a lot of tools and venues are available to both make and show video art. But there's still a long way to go in terms of equity both behind and in front of the camera.