Roxanne Vardi
Niio is proud to introduce a selection of artcasts by celebrated photographers in collaboration with Fahey/Klein Gallery, the leading contemporary photography gallery in Los Angeles. Curated by Nicholas Fahey, these selections dive into the work of the artists, presenting key series and iconic images.
Miles Aldridge is a British photographer and artist who rose to prominence in the mid nineties with his remarkable and stylized photographs which reference film noir, art history, pop culture, and fashion photography. Miles Aldridge is the son of Alan Aldridge, a famous British art director, graphic designer, and illustrator, who is known for his work with notable figures such as John Lennon, Elton John, and the Rolling Stones. Alan Aldridge was the art director for Penguin books. His work is mainly characterized as a combination of psychedelia and eroticism. Miles thus grew up in an artistic environment even posing with his father for Lord Snowdon as a child.
Aldridge's interest in photography started at an early age when he received a Nikon F camera from his father. At the age of thirteen, Miles was introduced to punk rock, and at the age of sixteen he joined a rock band called X-Men. Aldridge has mentioned that he found punk rock as 'a great escape' from his parents divorce. He went on to study graphic design at Central Saint Martins where he started out with painting and drawing, and later became a pop video director. By the age of 28, Aldridge became a fashion photographer at British Vogue where he worked for seven years as 'Grunge Photographer'. The artist has stated that he had "a fascination with the model in front of the camera". Aldridge found inspiration in artists such as Richard Avedon, a photographer who "balanced project work and fashion work". Miles Aldridge's works have been featured in magazine such as GQ, The New York Times Magazine, The New Yorker, and Harper's Bazaar. Aldridge's photographs have also been exhibited internationally at the National Portrait Gallery and the Victoria and Albert Museum in London, The British Museum, Fotografiska in New York and many more.
Niio Art in collaboration with Fahey/Klein Gallery recently published an artcast featuring a selection of Miles Aldridge's extensive oeuvre. This article is based on Miles Aldridge's interview with Bret Easton Ellis for Fahey/Klein Gallery.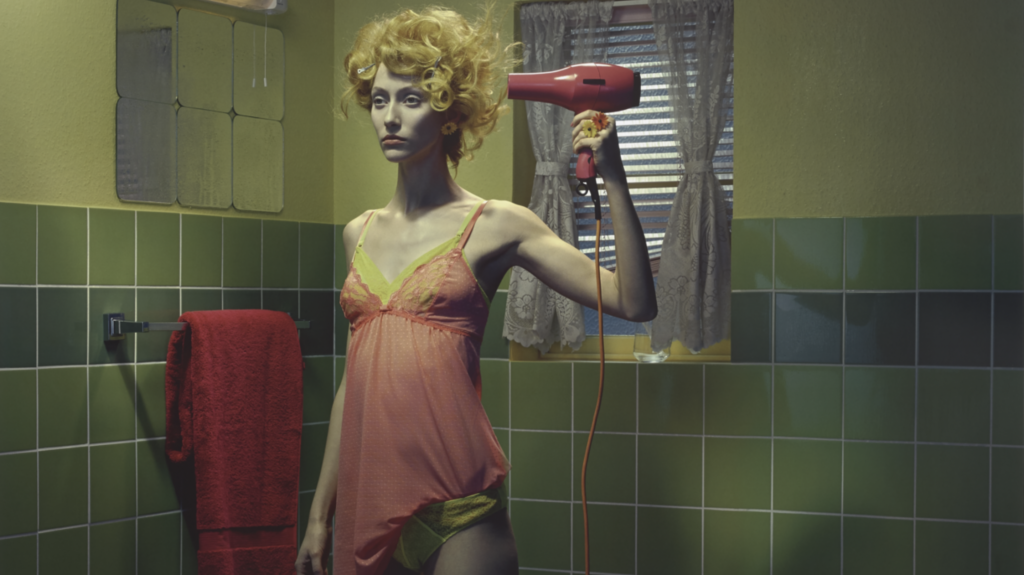 In addition to being inspired by photographers such as Richard Avedon and Helmut Newton, Aldridge's works are also highly influenced by filmmakers such as Alfred Hitchcock and Pedro Almodóvar. "It began as a love of cinema and became an opportunity to make pop videos. My film education continued from there, watching films to find an idea. Hitchcock's films always stayed with me, the most banal everyday objects become so sinister [in his works]. His stylization of life is what I find so true in a way".
Aldridge's photographs mainly display female figures as the main protagonists of the images, to this end the artist has stated "when my parents divorced I was left with my mother when my father moved to LA, I watched this woman care for us, at the same time there was this sense of her falling apart… My childhood became caught up in intense melodramas, strange housewives and mothers who have this secret life. Whatever was bubbling up inside her was like a geisha, completely without expression, driving this turmoil inside but keeping this perfect face. When I started my own work I looked for these same characters on the screen, mothers tormented with a secret life and unspoken truths. When I stumbled across these characters in films is when I started creating a series called Home Works. The cake becomes a metaphor for a family while the mother is plunging a knife into it". Thus, Aldridge always looks for a way to represent these personal yet collective domestic melodramas but in a way that is highly stylized, and therefore there are also no men in his pictures because according to the artist "enacting that would [make] it too real".
There is also the influence of painting in Aldridge's works with his use of bright colors which he attributes to artists such as Francis Bacon, Henri Matisse, and Alex Katz. Aldridge's works can often times be experienced as color experiments which he suggests are on the verge of a color overload. Apart from art history, Aldridge is also highly inspired by films.
The artist has thus stated that he is very ״inspired by technicolor films where the color is beyond reality, like a red bus in a Hitchcock film". Inspecting his work titled A Drop of Red #2 from 2021, one will realize that the substance overflowing from the broken Ketchup bottle is in fact much redder than it would be in reality. This is a technique used by the artist to exaggerate a scene taken from reality, and to create a certain mystery around the work. Furthermore, the artist relates to "the intense artificiality of photos", and this is what he finds so powerful.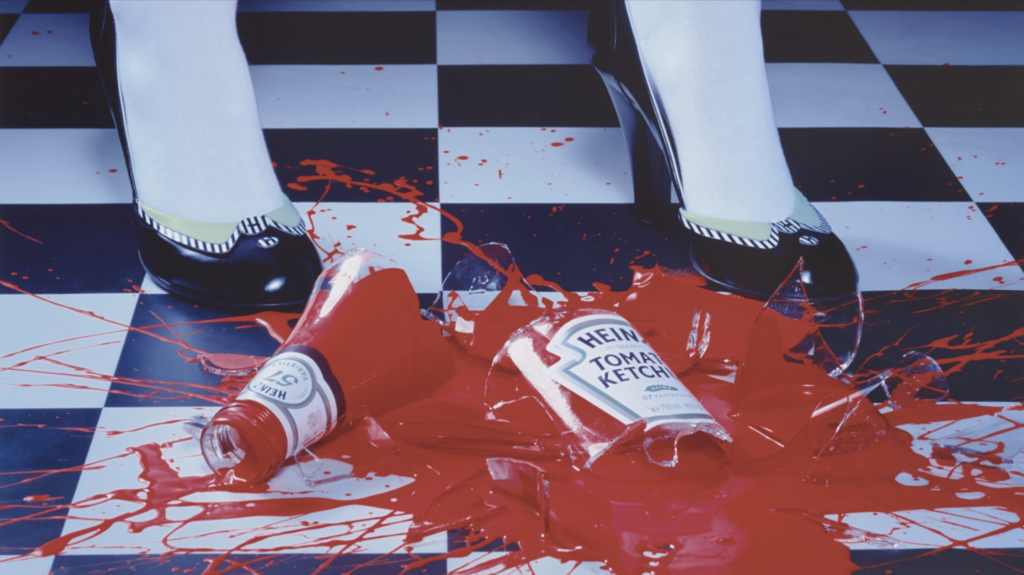 Towards this end Aldridge has shared his system "where I take a personal memory and take it through a scene of a film". The artist then takes cinema and puts it into the realm of photography.
As part of his oeuvre, Miles Aldridge also created a series of religious images called Immaculée inspired by Black Narcissus a film by Michael Powell and Emiric Pressburger which focuses on a nun's journey from the sacred to the profane. Apart from the story itself Aldridge was very inspired by "the technicolor process of the film, the use of strong gelled lights, fake painted skies and sets", and this is what he calls an "incredible orgy of color" – these early technicolor films look a bit unreal in a way just like Aldridge's works.
The Immaculée series was also inspired by Falconetti's closeness to the camera, which can be interpreted like a piece of performance art.