Roxanne Vardi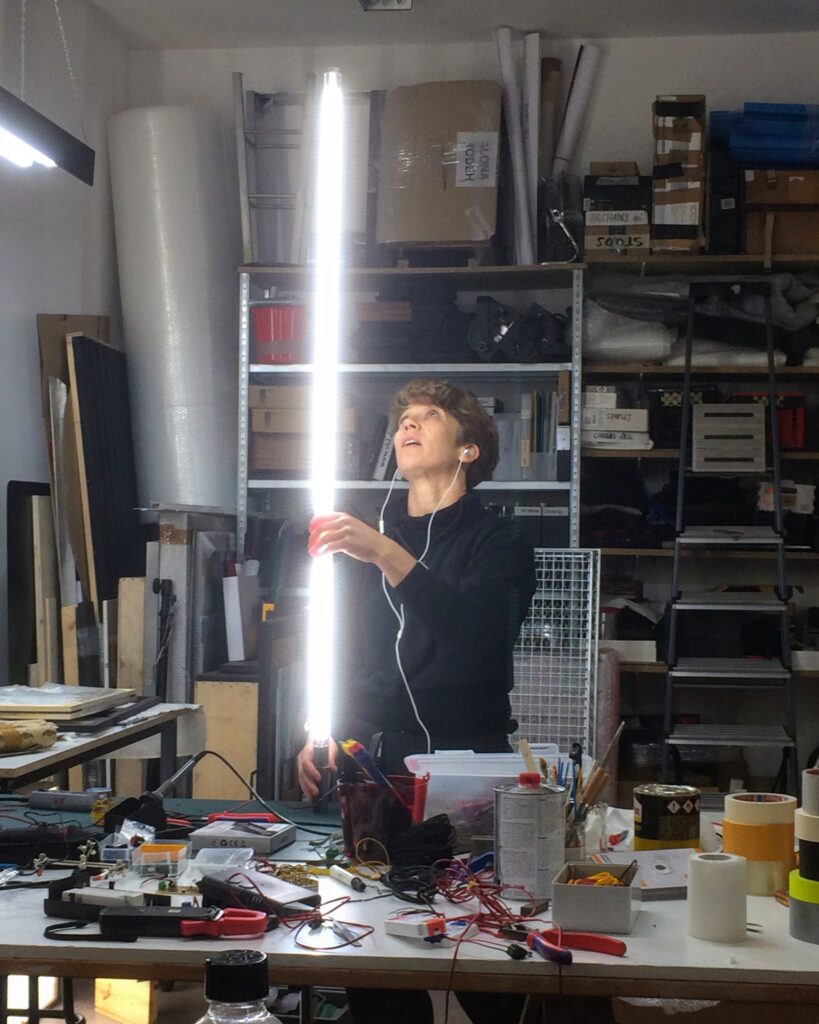 Alona Rodeh is an Israeli visual artist and individual researcher who currently lives and works in Berlin. Rodeh is a cross-disciplinary artist whose works include immersive environments, video works, sculpture, and public art projects. Rodeh's artworks are currently focused on the presence of artificial illumination in the public sphere, and in turn its influence on humans and non-humans. Rosenfeld Gallery is presently exhibiting its third solo show of Rodeh's works, this time focusing on a collaboration with artist Rachid Moro. The exhibition titled CITY DUMMIES is made up of CGI works which were all created in the past year, and which mark a shift in the artist's oeuvre from video and cinema to the practice of post-cinema. Rodeh's artworks have been exhibited internationally at private as well as public spaces including Berlin, Vienna, Tel Aviv, and New York.
CITY DUMMIES, comprises of eight video artworks, powered by Niio Art, which are spread across Rosenfeld gallery's space. The artist designed and engineered the space in a way which complements what the viewer is anticipated to see on the screens. The gallery space is painted in a dark grey tint to complement the video works, and the screens hang from industrial metal poles. Moreover, the space is partitioned with a white metal roofing panel used as a wall to separate one of the artworks titled Runway Freefall Deluxe. The works exhibited are CGI works which all display familiar urban scenes that are deplete of humans, and instead all show inanimate objects as the protagonists of the presented scenes. The fictional urban scenes produced by the artist present viewers with different machines that vary from an ATM machine, to electric scooters, to drones which come to life during the nighttime hours and become the stars of the spectacle.
The hyper realistic works set within dystopian environments display a certain obedience to contemporary consumer society. The presented imaginary urban technology landscapes all show orchestrated plays between extraordinary lighting, movement, sound, and visual effects. The Juicer (Late Shift), shows a transit van pulling over down a driveway in reverse gear. The back doors of the car open and a stack of electric scooters flicker and play music from within the transit. The artist has stated that she feels she plays a kind of god-like figure of the fabricated events that are created within these artworks. The series of works created for the CITY DUMMIES exhibition were all created using 3D models which were inserted into gaming models as a kind of "puzzle of pieces which we put together". Moreover, Rodeh has shared with us that the work here is of a scenographer of built environments, and that many of the final artworks allude to movies such as the work Runway Freefall Deluxe which references Magnolia.
Alona Rodeh, The Juicer (Late Shift), 2022.
You started your artistic career working mostly with sculpture and installation, whereas lately you have been working mostly in the digital space and specifically focusing on Unreal projects. Can you walk us through this trajectory and how one medium led you or complemented the other on your artistic journey?
CITY DUMMIES is–also–a sculpture and installation show, though it might not look like it at first glance. But going into the creation of digitally-fabricated environments had much to do with the pandemic. When reality as we knew it came to a halt in 2020 and into 2021, I felt it as a life-changing experience. My plans were shattered time and time again. I, among so many others, lost a sense of control over my present and near future. This project, slowly but surely, grew out of an almost existential urge to create my work on my terms, without relying on institutions and their commissions. Not by coincidence, it's an imaginative space that can be seen online and offline. It's a huge bet, and hopefully, it also pays back.
Alona Rodeh, Gearing Up, 2022.
The artworks which are part of the CITY DUMMIES all insinuate human intervention but are in fact completely deplete of people. What is your intention towards this definite decision? Does it in your opinion also point to what is expected to come in the future?
People's presence is felt even if they are not visible since the built environment results from human production. Here, direct human presence is strictly ruled out; The series is a little love letter to all those precarious machines of the Zeitgeist acting out at night. Dancing as if nobody is watching. I don't look so much at the future but comment on the shadow of the present. It's a strange, automated fantasy.
Towards the creation of your new series of works and towards the CITY DUMMIES exhibition you discovered and worked with Unreal Engine. Can you share your experience working with this novel and advanced real-time rendering tool?
I heard "rumors" of Unreal Engine while using other render engines for presentations of sculpture, which I have been using for some time (Keyshot, Blender), and I thought I'd try it. No other software allows such powerful real-time rendering, which is a game-changer. There is no delay between design and output; The software is so well-optimized that it can run very complex scenes with little effort. I did one little work with it, and appetite comes with eating. My partner Rachid Moro (lead CGI in this project) and I had to shift all the studio equipment to feed the monster: getting the best graphic cards, extra memory cards, screens, and of course: expanding the team. Rachid dived in with all his attention to detail; I focused on the conceptual possibilities and steering this big ship; we gathered a few other people around us to contribute and learn together what this engine can allow. Some clips took a good few months; some are still in the works, and others are only in my head still. It's complicated but gratifying.
Alona Rodeh, Runway Freefall Deluxe, 2022.
You have also created artworks for public spaces in the past, can you elaborate on the differences, at least from your personal perspective, working in the public sphere as opposed to the private gallery sphere?
I find all my inspiration and ideas in the built environment. Therefore I'm always happy to do work in actual public space, and I focus on doing some of these in parallel. When I work on public art commissions, I have to consider a battery of limitations and challenges: safety, the resilience of materials, costs, communication with local authorities, public opinion, and so forth. With CITY DUMMIES, I don't have all this baggage; it's all up to me. At this point in my career, it feels liberating.