Pau Waelder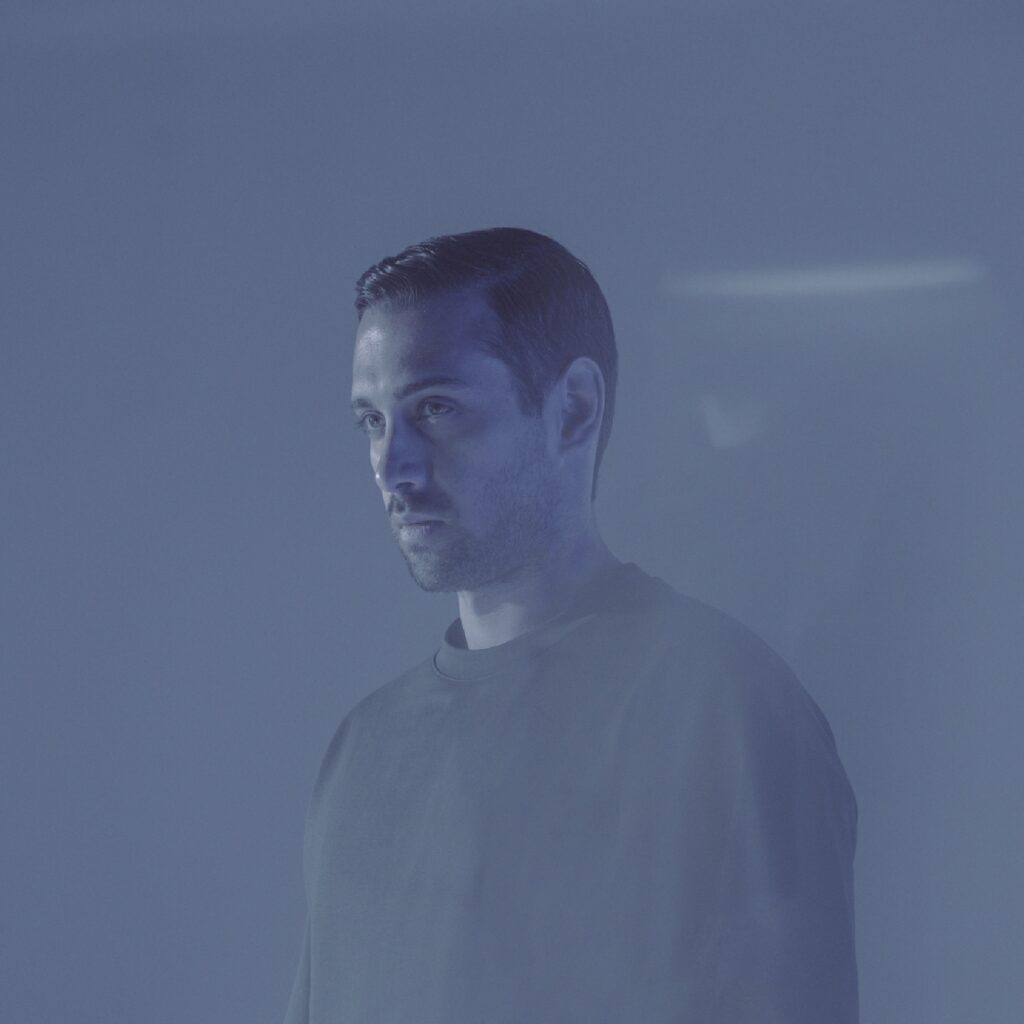 Ali Phi (1987) is an Iranian born new media artist and creative technologist currently based in Toronto. In 2013 he founded Nullsight, a collective of artists and programmers based in Toronto that curates and supports events linked to digital arts and music. The artist's practice addresses architecture and spatial elements, both metaphorically and physically, creating interactive media that explores the relationships between geometry, patterns, light, and poetry.
In his live performances, he blends generative and time-based materials with sound and computational elements, providing unique collective experiences through data visualization. His visual art installations and performances have been showcased at renowned international venues and events, including Ars Electronica in Austria, Mutek in Montreal, and Art Brussels in Belgium.
Phi has recently presented a selection of artworks from the project Agnosia in a dedicated artcast on Niio. In the following interview, he elaborated on the concepts and processes behind these artworks and in his experience as an artist living in-between different worlds.
Experience Ali Phi's immersive landscapes on your best screen
Ali Phi. AGNOSIA 4, 2022
Can you tell me about the inception of Nullsight? How do you combine curation, performance, and software development in your work?
I founded Nullsight with the goal of promoting like-minded artists and cultivating the market for new media and digital arts. This eventually led to joining a new media arts festival in Iran and directing it in the following years. Following the festival's success, we continued to curate exhibitions both online and in real in Iran and Germany, as well as supporting other events in the field.
Upon relocating to Canada, Nullsight evolved into an art collective focused on creating and providing resources and toolkits for artists. Many of these products stemmed from the code I developed for my own artistic practice or in collaboration with fellow artists. Our aim was to transform these products into user-friendly tools accessible to a wide range of artists. We are guided by an ethos of open-source sharing, as much of our work is inspired by tutorials and shared code from fellow artists. This led us to establish an online platform for sharing these products.
Our upcoming projects are geared towards integrating the latest technology and are shaped by feedback from fellow artists and users. We are committed to keeping all resources updated and accessible to the public, ensuring even those with limited coding knowledge can employ them in their creative processes.
The underlying motivation for sharing these resources is rooted in my own experience of self-guided learning. I believe in giving back to the community and supporting the next generation of artists. Making these assets available serves as an educational resource and empowers other passionate creators. Additionally, participating in performances deepens my understanding of concepts and allows me to stay connected with the vibrant community of new media artists, inspiring fresh ideas for future works.
Ali Phi. AGNOSIA 4, 2022
You have been an active member of the digital art community in Tehran. Can you describe how this community is working today, and what opportunities are there for Iranian new media artists?

It has been years since I've been away from Iran and the media art scene there, but I have seen that some of my students and fellow artists are continuing their practice in this field. They participate in small exhibitions in Iran, international exhibitions, and hold workshops to spread knowledge. Unfortunately, due to financial issues, sanctions, and governmental problems, the TADAEX festival stopped at its eighth edition back in 2018, and we couldn't continue organizing it in Iran. However, I've noticed that many artists and volunteers from TADAEX have started studying in universities in North America and Europe, and they are still continuing their arts journey with notable achievements.
In terms of the future of new media arts in Iran, I believe the community and the new generation are incredibly curious and creative in this field. With the easy access to information and tutorials nowadays, it's much easier for them to learn and continue coding. However, one challenge is the accessibility of hardware and devices, again due to sanctions. This has been an issue for the past decade, as finding investors or convincing business owners, galleries, institutes and industries to invest in such festivals and programs has been challenging. Unfortunately, I've seen that most of these events have been canceled or put on hold. However, I'm aware that certain organizations are still trying to keep their hackathons, labs, and gatherings going, pushing boundaries by participating in international festivals and online showcases.
As for recommending Iranian artists, it ultimately depends on their passion and how they feel. This was the same for me and my fellow artists. Today, I know it has always been the passion for creating and presenting, which was the main reason for starting the festival in 2011. We didn't have a platform like that back then, and one of the primary goals of the festival was to create a platform where we could showcase our art, receive feedback, teach others, and educate the community.

Ali Phi. AGNOSIA 2, 2022
You have stated that your work starts with music and then visual elements come into play, inspired by the music. How would you say that this approach has shaped your work?
Starting with sound and music is an essential part of my creative process. Sound, being such an intangible medium, offers a highly imaginative experience. It allows me to draw inspiration from everyday sounds, turning them into motifs that blend various cultural influences, moods, and vibes. This dynamic component, when integrated with visual elements, creates a holistic experience. The visual aspects act as an illusion that complements the overall presentation of the artistic work, particularly when synchronized with the sound. The architecture of the venue is crucial, especially for installations. It sets the stage for the entire experience. Whether it's a traditional stage or a non-traditional presentation space, the approach remains consistent—surprising the audience with carefully crafted lighting, high contrast visuals, and a blend of different elements.
In my performances, I aim to engage the audience in a self-reflective experience. There's no predefined narrative; rather, it's an invitation for the audience to immerse themselves in the currents of the experience, interpreting it based on their unique perspectives and their natural flow.
During the production phase, I begin with conceptualizing ideas and envisioning the sonic and visual environments. Music becomes the canvas on which I shape the overall sonic culture of the work. Then, I introduce visuals, focusing on synchronicity and refining details in the audiovisual material. This iterative process helps create a cohesive and immersive experience. Depending on the performance, I might experiment with the sequence of scenes, responding to the energy and vibe of the audience, ensuring each interaction is distinctive. Given the generative and real-time nature of the work, I design each scene with controllers mapped to specific parameters, essentially performing them like an instrument that orchestrates both mediums seamlessly.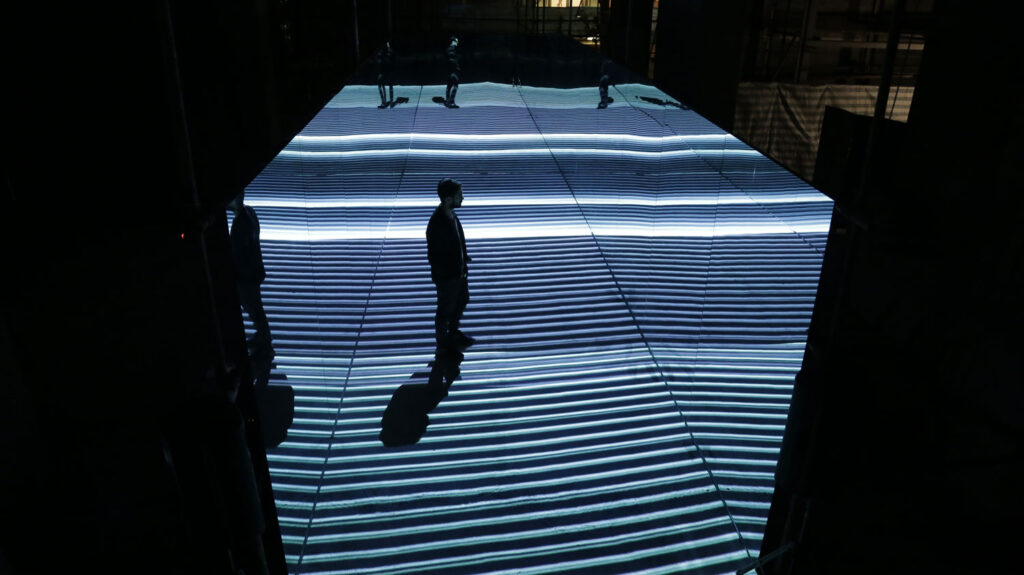 Ali Phi. SHYM, 2016. Real-time Generative Audiovisual Installation. Yassi Foundation, Tehran, Iran
Can you elaborate on the influence of Iranian culture in your work? How important is it to you that the references to Persian traditional arts are identified with your work?
The majority of my work's concepts draw inspiration from a special era in Persian culture, dating back to the Achaemenid dynasty. It was an era focused on bringing a sense of heaven to earth, rather than solely anticipating a better future after death. This ethos gave rise to the rich arts and crafts of Persian culture, as well as the creation of Persian gardens, which are marked by their distinctive architectural and garden design. Even neighboring countries recognized this cultural heritage. Many of the poets I followed from that era were also scientists, well-versed in fields like astrology and medical sciences, weaving their knowledge seamlessly into their poetry. The educated individuals of that time saw no boundaries between disciplines; rather, they saw a harmonious integration of heart's desires, intellect, and art.
I find deep inspiration in these timeless connections between different mediums and how they coalesce in a civilized society. Western culture has often compartmentalized these aspects, but in Middle Eastern culture, they were integral parts of a whole. For instance, the Arabic word for art, "fan," is synonymous with technique. This convergence of mediums was evident in ancient civilizations, and it greatly inspires my work. Having visited these sites since childhood, I've developed a profound connection to their sacred geometry and the masterful artistry of those who designed and meticulously crafted them.
In my artistic practice, I incorporate Western and cutting-edge technologies, merging them with the enduring inspiration I derive from that era's concepts. Ritual music, a genre characterized by its complex and sometimes challenging sounds, is a vital component. It's deeply intertwined with the life cycle of the singers and musicians. In traditional settings, musicians must attain a certain level of mastery to be permitted to play specific instruments. These are ancient and organic facets of confrontational art that continually fuel my creativity.
In my practice, I remain steadfast in adhering to these foundational ideas and approaches. They are like hidden threads woven into my work, not immediately conspicuous but discernible to those familiar with the culture. These elements serve as the underlying spices that infuse depth and meaning into my creations.
Besides these cultural references, it seems telling that visually your work is characterized by what you have described as "cities or environments out of time and space." What does this timelessness bring to your work?
The concept of creating "cities or environments out of time and space" has always been central to my artistic vision. I perceive each piece as a fragment of a larger whole, evolving and taking shape over time, akin to pieces of a puzzle. I aim for these installations to serve as a contemporary format, rooted in origins and influences from the past, yet projecting a timeless and futuristic utopia. In engaging with these works, viewers encounter not only art and its meanings, but also an invitation to contemplate existence itself.
The essence of my creations lies in providing a digital realm for audiences to immerse themselves in, encouraging them to engage with, observe, and even co-create. This interactive dimension is paramount, as it empowers individuals to embark on a personal journey of introspection and self-discovery.
When conceiving a piece, I approach it as if I were an audience member myself. I design the space, infuse it with ideas, and often perceive it as an extension of the viewer's experience. This involves creating a framework, coding, and incorporating various mediums, effectively transforming it into a dynamic entity capable of receiving input, generating responses, and facilitating a creative exchange. Ultimately, this interplay with the work serves as a conduit for individuals to explore and connect with their own inner landscapes.



You have said to find beauty in error, would you say that glitch interests you mostly by its aesthetic qualities, or are you interested in the fact that glitch "captures the machine revealing itself," as Rosa Menkman describes it?
I find a deep fascination in witnessing failures and glitches in various types of working machines or systems. Regardless of a machine's intended functionality or design purpose, I see beauty in its operation. However, glitches and errors hold a special allure for me. They represent moments where designers and creators didn't anticipate certain issues, and the resulting visual anomalies are, in my eyes, incredibly captivating.
Glitches, whether they manifest in the physical world or appear in digital spaces, have an inherent aesthetic quality that I find compelling. The unexpected patterns and distortions that emerge, whether in the texture of a physical object or on a screen, are visually intriguing and often breathtaking. This fascination extends to coding and programming as well. Many times, glitches and failures have served as a wellspring of inspiration for me, igniting the creative process.
In both the physical and digital realms, I derive a sense of wonder from encountering these deviations from the norm. Even in nature, there are instances of glitches or anomalies, like unusual formations on a rock or unexpected patterns in a natural setting. These occurrences seem to defy logic, existing in a way that shouldn't be possible, yet they persist and assert their presence. For me, there is nothing more beautiful than witnessing or experiencing these unique moments in life.
Both as an artist and interaction designer, you have experienced the growth of the open source movement. What have open source tools brought to your work, and how do you see this trend evolving in the context of the growing domination of AI systems?


As a self-taught new media artist and creative technologist, the open source movement has played a pivotal role in shaping my career, particularly in terms of technique. The wealth of resources provided by the open source community, including tutorials, libraries, videos, and other online materials, has been indispensable. Most of the libraries I rely on, whether in JavaScript, Python, or tools like Touchdesigner, are products of dedicated individuals freely sharing their knowledge. This ethos underpins a significant portion of my creative work, and I'm immensely grateful for the existence of this culture.

Regarding AI, I personally don't perceive any hindrance or threat to my artistic practice. As long as I have creative ideas and the desire to bring them to life, I'll continue doing so, with or without the assistance of AI. That said, I am deeply intrigued by working with AI models and algorithms. They represent a new frontier for me, akin to a different type of glitch or anomaly that can aid in expediting the creative process. At times, these AI tools introduce unexpected elements or challenges, akin to the price we pay for their existence and utilization of resources. Yet, much like any technological advancement, I view them as a new material to work with, and I'm enthusiastically open to exploring and experimenting with various devices and beings in the digital realm to bring my creative visions to life.


Ali Phi. ENFE'AL 1, 2023
You have described the use of AI algorithms in Agnosia as "a digital creature that takes over the atmosphere." It is interesting that you see AI as a "creature," how would you describe your creative process when working with AI systems?


Working with AI systems in my creative process feels like a dual jam session with another person. Especially in my performances, it's as if I'm playing and interacting with an instrument or player that I've brought to life through code. I navigate through the real-time occurrences and reactions of the patch, which unfold in front of the audience.
Incorporating AI libraries into my work serves as a means to provide an extensive platform, offering a range of sensors, libraries, and AI models that infuse a new layer of dynamics into the overall concept.
In the case of project Agnosia, I utilized an EEG brainwave interface. The data gathered in real-time was then processed and translated through a trained library, ultimately shaping the deformation of particle systems and point clouds. From my perspective, there's a seamless continuity between the raw electrical data sourced from my neurons through the headset and the way the AI library processes this data in order to generate meaningful patterns, both sonically and visually. In essence, it all serves as a malleable material for me to explore, extracting reactions, establishing boundaries, and crafting a meaningful interplay that manifests in sound and visuals.

Enfe'al is based on the audiovisual performance Maqruh, which evokes liminality and is divided into seven phases of the formation of an entity. Can you elaborate on this narrative? What does this notion of evolution bring to the artwork, the performance, and the experience of the viewer?


Enfe'al is one of the scenes within the Maqruh audiovisual performance, which is typically presented in a live performance format. The piece is composed of seven distinct sections, collectively exploring the concept of makruh—a term from Middle Eastern terminology denoting a detestable act that falls in a gray area between forbidden and permitted. These sections together trace the cyclical journey of an entity through phases of passivity, avoidance, constriction, conformity, elevation, expiry, and revival.

While my work draws inspiration from Middle Eastern cultures and motifs, it goes beyond mere representation. There is no explicit storytelling or directional guidance for the audience. Instead, there exists a comprehensive concept that unifies the different segments of the performance. It endeavors to establish connections between these seven phases, creating an immersive and cohesive experience.
For me, this concept mirrors a broader theme in the creation process. It reflects a point of uncertainty, like standing at a crossroads where decisions need to be made, but the outcome remains uncertain. This sense of uncertainty and decision-making is a recurrent theme in my interactions with the code I write and in the process of crafting installations. It revolves around determining the best approach, weighing the possibilities of success or failure, and ultimately making a choice.
In crafting my work, I follow a consistent pattern of infusing ideas rooted in the culture I've grown up in. I delve into intricate details and motifs, transforming them into a canvas for generating code and A/V content. This process allows me to integrate cultural elements with the technical framework, resulting in a unique and immersive experience for the audience.


Ali Phi. AGNOSIA 6, 2022
Agnosia refers to processes of memory and incorporates your reaction to your own recollections, AI algorithms, and glitch. What led you to work so introspectively, with your own memories, and brainwave data?
The concept behind the project Agnosia emerged from my deep-seated interest in architecture, particularly my fascination with the intricacies of spatial geometry. I noticed a recurring pattern in how our brains process spatial information, like the way robots operate at storage warehouses employ similar principles for efficient navigation and routing. It intrigued me how certain locations could evoke distinct sensations and memories, yet the precise triggers remained elusive. I became captivated by the interplay between architecture and the spatial formations that contribute to this phenomenon.
In industries like robotics, this process is utilized for navigation, but what sets humans apart is our capacity to record and experience these feelings. This aspect, however, is often overlooked in industrial applications. I sought to delve into this unexplored territory, aiming to introduce a live feedback loop that could simulate and evoke sensations based on the random associations AI algorithms can generate.
To achieve this, I embarked on a process of recording various natural and man-made locations, feeding them into a software system that could recreate these spaces using EEG data obtained while I immersed myself in these environments. It was akin to the software acting as an extension of my senses, generating new spaces based on the data it received through my eyes. The resulting information was then fed back into the system, applying deformations to create these synthesized spaces.
While I've presented some of the scenes and processed videos as static representations, the core of the project lies in its dynamic nature. The main patch serves as a generative art engine, fueled by pre-recorded EEG data from my performances. This could be presented in real-time, with the EEG device attached to my head, continuously generating new visual spaces based on my gaze and cognitive responses. In essence, Agnosia integrates my introspective exploration of memory recalling processes, brainwave data, and architectural influences, bringing them together through the interplay of an AI "creature" and glitches to create a unique, immersive experience for both myself and the audience.