Pau Waelder
On the occasion of Clinamen, Antoine Schmitt's first solo show at DAM Projects, I wrote the following text that can be found in the gallery's press release and is now available on Niio Editorial courtesy of DAM. The exhibition runs until January, 2024 at the Berlin gallery.
According to Epicurus (341-270 BC), the universe consists of atoms constantly falling down, carried by their own weight into the void, like drops of rain. This endless cascade of billions and billions of atoms, ordered in neat columns, might be beautiful and dull but no one would see it, because nothing would exist. Epicurus explains that thanks to a slight swerve in their trajectory, the atoms collide with each other and, through chain reactions, create all matter. This subtle deviation from a perfectly straight path is what he calls the clinamen, a term that ignited the imaginations of Dadaists and Pataphysicians alike, and that now finds itself as the title of Antoine Schmitt's first solo exhibition at DAM Projects.
Antoine Schmitt. Cascade Grand Oblique Video Recording, 2018. Code based art.
A programming engineer specializing in Human-Computer Interaction and Artificial Intelligence, Antoine Schmitt is a unique visual artist who distills inspiration from kinetic, cybernetic, and abstract art into a body of work that often appears unapologetically minimalistic: the square dominates his abstract generative artworks, sometimes with the authoritative presence of Malevich's Black Square, sometimes integrated into a vibrating multiplicity of shapes as in Vera Molnar's (Des)Ordres series, but more often as a humble pixel transiting a black void. However, representing purely abstract entities is not Schmitt's goal, as his interactive installations attest: he is interested in people, societies, the ego, the Superego, and the laws of the universe. Rather than a mathematician, he sees himself as a physicist who, as Epicurus, uses his imagination to seek an explanation of reality and provide a representation of it. 
In this room, we are looking at black squares made visible by their absence, pixels gracefully dancing in strange choreographies, messing around, hurriedly crossing to the other side of the screen, or falling in cascades, carried by their own weight. Their movements are mesmerizing precisely because the artist has programmed a clinamen that gently deviates their trajectory and leads them into a seemingly chaotic, but also beautifully synchronized, behavior. Order and chaos are key to the work of an artist who does not "animate" the pixels, but creates situations and rules using code, and then lets the program run on its own. A series of performative events carried out by machines, the artworks build realities that exist in front of us in real time, mirroring the physical, social, and informational systems we are a part of.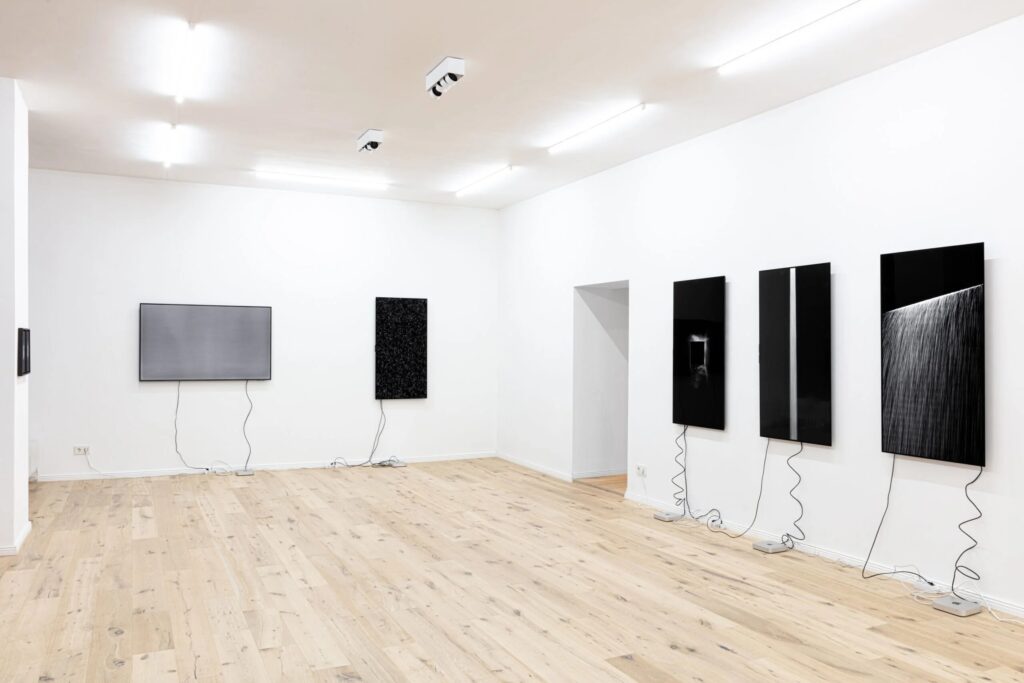 A single pixel, hanging on the wall, pulsates at irregular intervals. It is trying to communicate its own source code, to replicate itself, if not as a physical entity or picture element on a screen, then at least as an idea. A Duchampian bachelor machine, it fails in its task. But ultimately it acts as a mirror of the person who observes it, reminding us that we are the pixels in these endless flows. And that we are, in turn, made of atoms that once, fortunately, strayed from their path and collided with each other.
Explore Antoine Schmitt's artworks on Niio