Niio Editorial
As we reach the end of 2022, we look back at a very busy year, and forward to an even more intense 2023. In this series of posts, we have selected some of our favorite artcasts, artists, artworks, articles, and interviews. They outline an overview of what has happened in Niio over the last months and highlight the work of artists and galleries with whom we are proud to collaborate. However, there is much more than what fits in this page! We invite you to browse our app and discover our curated art program, as well as our editorial section.
Five artworks from 2022
Screens have become the canvas of the 21st century. Artists display their creativity in digital artworks that are meant to exist on a screen, sometimes inside a web browser or even a mobile app. We believe that artworks are better experienced and appreciated in a dedicated screen, and therefore our whole system enables setting up a screen at home or anywhere that becomes a space for art. Within this space, many things can happen: the images that appear on the screen can be painstakingly created through 3D modeling, or drawn using a generative algorithm. They can also consist of video footage mixed with hyper-realistic CGI elements. They can be abstract or build a precise narrative, and they can be crafted from scratch or appropriated from an external source. It is quite impossible to describe everything that an artist can create digitally and that fits on a screen, as it is defining everything that a painting on canvas can be.
We have chosen five artworks from more than 230 moving image artworks and 185 photographs featured in our curated art program this year. Click on the artists' names to find out more about their work.
Yoshi Sodeoka. Synthetic Liquid 8, 2022
Supported by a hybrid creative process that is both analog and digital, Sodeoka deploys an unconventional artistic approach that challenges the video medium. While questioning the major issues of visual media, its perception, and the interpretation of the world in the digital age, the work navigates narrative universes with singularly ultra-guided aesthetics. "Synthetic Liquid" depicts organic forms and blatant colors that open a portal to psychedelic and illusory world far from reality.
A multifaceted artist, Yoshi Sodeoka creates a wide range of audiovisual artistic works that include video art, animated gifs, music videos, and editorial illustrations. Influenced from an early stage in his career in noise music and glitch art, as well as avant garde movements such as Op Art, his work is characterized by breaking down the structure of the musical score and visual integrity of the image to find new forms of artistic expression.
Driessens & Verstappen. Kennemerduinen 2010, scene H, 2011
Kennemerduinen 2010, is a project for which the artists documented six locations around the Kennemer dunes (near the North Sea). Each film has a duration of almost nine minutes and covers exactly one year, from one January to the next. On a weekly basis, each scene was repeatedly photographed from the same position and at the same time of day, around noon. With custom developed software each series of shots was edited into fluid transitions. Slow transformations and changes in season, that are never directly perceptible in daily life, are perceptible on a sensory level. By systematically computerising and formalising observation, the Kennemer dunes films became studies of the spontaneous course of nature, of the emergent and entropic processes underlying it.
In the past years Driessens & Verstappen have documented three different types of Dutch landscapes: a historic landscape park (Frankendael 2001), a dike landscape (Diemerzeedijk 2007) and a dune landscape (Kennemerduinen 2010). From each landscape type several films are made.
Katie Torn. Dream Flower I, 2022
"Dream Flower I" is a 3D animation that depicts a snoozing biomorphic female arrangement made out of flowers, leaves and pipes. As the creature sleeps, a plastic like liquid flows from the pipes creating a relaxing fountain. The work is inspired by Victorian botanical illustrations.
Katie Torn's work explores the female figure in a world shaped by digital technology and obsession with self-image boosted by social media and consumer culture. She uses 3D graphics and video to build assemblages of natural and artificial elements that question the boundaries between beauty and decay, body and prosthesis, organic and synthetic, and between a person's own self and the image she creates of herself.
Julian Brangold. Observation Machine (Iteration), 2022
A sculpture depicting a seating man is multiplied six times, the copies rotating in a choreographed fashion. Colored in a pink hue, the sculptures resemble consumer products, souvenirs lined up on a shelf waiting to be purchased. At the same time, the artist applies an effect that makes the sculptures come to pieces, as if an invisible hand were trying to touch them but destroyed them in the process.
Julian Brangold (Buenos Aires, 1986) is one of the leading names in the growing digital art community in Argentina. Through painting, computer programming, 3D modeling, video installations, collage, and a myriad of digital mediums, he addresses how technologies such as artificial intelligence and data processing are shaping our culture and memory, as well as our notion of self. An active participant in the cryptoart scene and NFT market in Argentina he has been exploring art on the blockchain since 2020 and is currently the Director of Programming at Museum of Crypto Art, a web3 native cultural institution.
Julie Blackmon. New Neighbors, 2020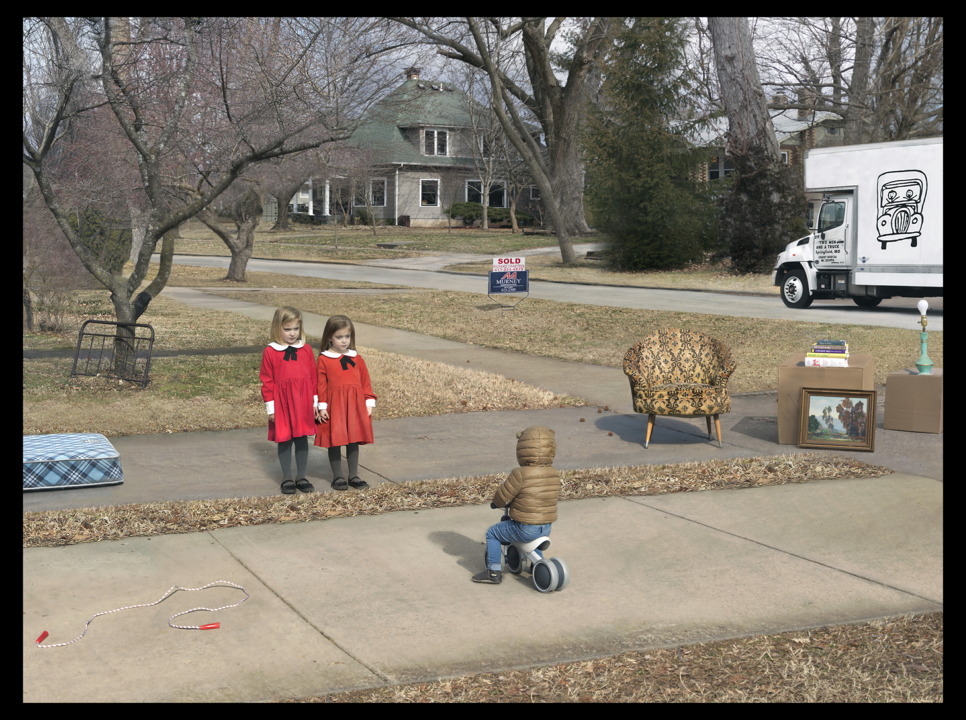 Julie Blackmon (b. 1966) is an American photographer who lives and works in Missouri. As an art student at Missouri State University, Blackmon became interested in photography, especially the work of Diane Arbus and Sally Mann. Blackmon's oeuvre also shows influences from Masters of the Dutch Renaissance such as Jan Steen.
Niio Art in collaboration with Fahey/Klein Gallery recently published an Artcast of Julie Blackmon's photography works in digital format. The artist focuses on the complexities and contradictions of modern life, exploring, among other subjects, the overwhelming, often conflicting expectations and obligations of contemporary parenthood. Blackmon has stated that her works deal with "modern parenting, and the contradictions and expectations and the overwhelmed feeling that go with parenting today as compared to the past" furthermore the artist has stated "with the little ones it's more metaphorical than about parenting, and speaks of the anxieties of everyday modern life".