Conrad x Niio digital art selection
At the core of every Conrad hotel and resort is a seamless connection between bold design, impactful experiences and curated contemporary art to inspire the conscientious luxury traveler. 

From the thoughtfully curated art collections found in every Conrad hotel around the globe to the ever-evolving technologies designed to enhance the guest experience, Hilton has a rich history with art and innovation. It was the late Conrad Hilton himself who believed that meaningful hospitality has the power to transform personal journeys and make a positive impact, now and forever.

To continue that tradition, the pilot program with Niio, currently solely offered at Conrad New York Midtown, allows Conrad to explore an increasingly popular medium to deliver even more impactful experiences and spark connections among guests and the community. 

Through the partnership with Niio, guests will be able to enjoy the digital artwork in hotel public spaces and guest rooms, with the potential to take home a complimentary trial subscription to Niio.

The trial subscription may be accessed by scanning the QR code next to the digital artworks. Guests may follow the steps to download Niio and access the complimentary trial subscription.
Niio is the world's most complete and open digital art ecosystem – which includes video art, moving images,

photography collections

and NFTs – all curated and display-ready through the Niio app. 

Niio's heart and soul is a global community of 8,500 galleries, institutions and artists – from renowned to emerging – the full-range of screen-based creative expression. 

Niio gives this community the tools they require, to distribute, manage, monetize, and preserve their work through its platform and the blockchain. 

Diverse audiences can be inspired by, subscribe to, or purchase from this unprecedented repository, which is available on smart TVs, monitors, phones, tablets and public art installations.
The Niio platform allows for streaming digital art.

Niio enables viewers to stream art on demand, just as they do with movies and music. 

Discover and explore the finest digital art from their ever-growing library of 8,500 contributing artists and galleries, and over 250,000 artworks.

  

With Niio, viewers can create and share their own art playlists, or follow curated ones. 

They can display art from theiryour mobile device onto any screen in 4K and 8K quality, turning it into a standalone digital art canvas.

To learn more, visit niio.com.
Digital art is a term used to describe artworks created with digital technologies, namely computers, that are usually experienced on a screen or a projection, but can also include a wide variety of formats including installation, video art, animation, photography, sculpture, drawing, and painting, produced with specific software and hardware. 

A key aspect of digital art is the process of creation of the artworks: using computer programs, artists can produce infinite variations of a single composition or idea, or react to the presence of the viewer in real time.

Digital art is uniquely versatile and accessible. Artists can modify their work and create new versions, while the artworks are easily distributed online, reaching a global audience on any computer, smartphone, tablet, or SmartTV, among other devices.

The culture of our time is shaped by digital technologies. Digital art reflects on the fast-paced evolution of our society using innovative techniques that push the boundaries of the definition of art.
NFTs (Non-Fungible Tokens) are digital tokens that use blockchain technology to establish ownership and provenance for digital assets, including digital art.

By introducing a new way for artists to sell and monetize digital art, providing proof of ownership and scarcity, NFTs have profoundly impacted the art market, solidifying the presence of digital art and online sales of natively digital artworks.

NFTs have brought attention to digital art, creating a buzz around the potential for digital art to be considered valuable and collectible, leading to increased demand and higher prices for some digital artworks.
Eelco Brand (Rotterdam, 1969)
Eelco Brand is a digital artist from the Netherlands with a background in painting that strongly influences his 3D modeling work.

He creates photorealistic 3D animations that usually depict a scene in a natural environment, which incorporates subtly odd or fantastical elements.

His work starts with pencil sketches, then a draft of the animation and its main elements, and finally, a painstaking process of 3D modeling from scratch. He does not use 3D scans or photogrammetry.

He states: "From beginning to end, to every detail, it feels important to construct everything myself. It would be very well possible to obtain existing 3D objects, but that feels like cheating."

In his work, he addresses landscape as a fiction, an image that we create from a random placement of rocks, trees, and fields.

The scenes he creates have no conclusion. They simply play out endlessly in seamless loops, depicting a surreal activity that, by repetition, becomes natural.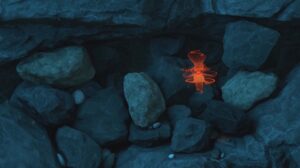 Eelco Brand conceives of his works as moving paintings. He patiently creates them from scratch using 3D modeling techniques.This artwork depicts an encounter with several luminescent jellyfish-like creatures in an underwater cave dimly lit by the moonlight. The photorealistic quality of the composition contrasts with the otherworldly situation that unfolds.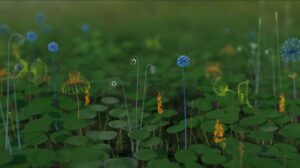 An apparently realistic natural scene is populated with strange plants that have an outlandish quality to them. By painstakingly creating a 3D environment with the patience of a devoted painter, Eelco Brand invites us to observe nature anew and question our perception of reality.
Daniel Canogar (Madrid, 1964)
Daniel Canogar is the leading artist in the Spanish digital art scene.

His work spans almost four decades and a wide range of media from video art installations to generative software art.

His father, Rafael Canogar, is one of the main representatives of abstract art in Spain. Influenced by his work, Daniel has always been interested in painting and sculpture, mediated by digital technologies.

Canogar started his career as a photographer. The experience of working in the lightroom has had a profound impact on his work: "I'm always trying to recreate that magical enchantment of a darkened space," he states, "and these glowing lights that create an almost alchemical process."

Overabundance and excess are also key concepts of his work, which often depict a myriad of elements crowding the space of the screen or projection.

He works with flexible LED screens, seeking to combine the sculptural qualities of the object with ephemeral visual compositions made of light.

Canogar has created numerous public art pieces, including for the European Union Council in Brussels and for Times Square.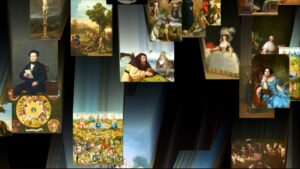 Created for the 200th anniversary of the Prado Museum in Madrid, this algorithmic artwork transforms the Museum's entire collection into a mercurial blend to understand how digital media is transforming our experience of the history of art.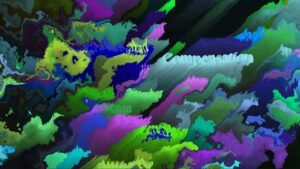 A generative animation shows words from various democratic system's foundational charters and becomes progressively distorted as a result of the reaction to the direction and intensity of the wind in the locations where they were written. The artwork suggests how these texts have been interpreted over time.
Antoine Schmitt (Strasbourg, 1961)
Antoine Schmitt is a French artist whose work explores all processes of movement using computers to create generative and interactive artworks.

Schmitt writes computer programs that define a series of elements and their behaviors. Each artwork is a visual composition that results from setting those elements to behave independently and interact with each other.

He creates screen-based artworks, as well as interactive installations, large scale projections, and collaborates with musicians and choreographers in live performances.

The artist is inspired by the dynamics of complex systems, from quantum particles to crowds in a public space, which he represents in an abstract form.

He states: "The pixel and the square are omnipresent in my work. I like my artworks to be minimal, like mathematical theorems."

Schmitt's award-winning artworks have been exhibited internationally in prestigious venues such as the Centre Georges Pompidou and Musée des Arts Décoratifs in Paris and at world-renowned festivals like Sonar (Barcelona), and Ars Electronica (Linz).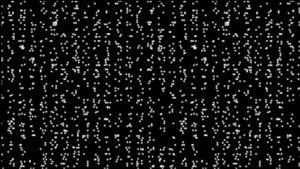 This code-based artwork presents a choreography of pixels displaying apparently arbitrary and independent movements which are actually programmed by a quantum-type equation. The piece evokes the invisible forces at play behind complex systems, like particles, peoples or societies.
This selection presents a video recording of the original generative artwork.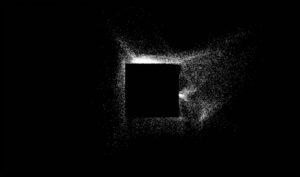 This generative artwork depicts a flock of white particles colliding with an invisible square. The shape of the square is revealed by the absence of white pixels, as these fail in trespassing its boundaries, but keep gravitating towards them. Schmitt's work reflects on the systems around us, from natural to societal organizations, represented in abstract form.
This selection presents a video recording of the original generative artwork.